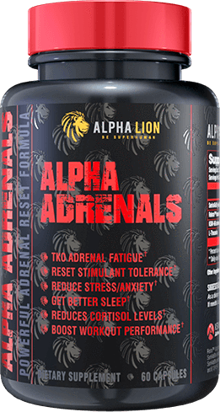 Alpha Lion Alpha Adrenals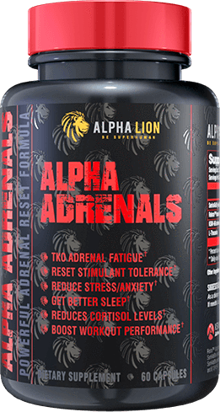 Alpha Lion Alpha Adrenals
TKO Adrenal Fatigue†

Reset Stimulant Tolerance†

Feel Your Pre 100% Again†

Blast away Stress and Anxiety†

Get better sleep†

Lower cortisol levels = faster gains†

Boost Workout Performance†
[end-short-description]

ALPHA ADRENALS was developed to reset your adrenals so you can lower cortisol, speed up your muscle gains, speed up fat loss, and feel the crazy effects of our max dosed pre-workouts once again.
According to research, Adrenal Fatigue impacts over 90% of men worldwide each year.
This is scary because the speed of which you can build muscle and burn fat are severely affected when you are suffering from adrenal fatigue.
Adrenal fatigue = higher cortisol levels which = more fat storage and LESS muscle gains
Adrenal fatigue = lower energy levels and lower training intensity
Adrenal fatigue = feeling lethargic throughout the day and needing to get by on both Pre Workout and coffee in the same day.
30 Days on ALPHA ADRENALS while off stimulants will heal your adrenals and allow you to feel that insane rush of energy from your pre workout once again.
So how do you take ALPHA ADRENALS?
If you are suffering from extreme ADRENAL FATIGUE (barely feel stimulants) we recommend you take ALPHA ADRENALS for 30 days and avoid all stimulants and caffeine at this time (YES, that means no SUPERHUMAN).
EXTREME ADRENAL FATIGUE 30 DAY PROTOCOL:
-Take ALPHA ADRENALS daily
-Take KOMODO PUMP pre workout

You can buy these as a stack here: ADRENAL GAINS STACK
MILD ADRENAL FATIGUE PROTOCOL:
- Take ALPHA ADRENALS daily
- Alternate Workout days between SUPERHUMAN and KOMODO PUMP
- Avoid any other caffeine sources for 30 days including coffee and other stimulants
†These statements have not been evaluated by the Food and Drug Administration. This product is not intended to diagnose, treat, cure, or prevent any disease.
**not suitable for persons under 18 years old.