Quick Links to Best Prices Price History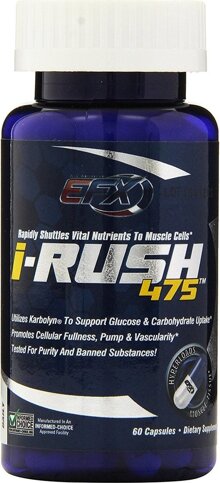 All American EFX i-RUSH 475
Introducing i-RUSH 475
i-RUSH 475 is a highly sophisticated "insulin mimicker" formula that contains a synergistic array of the five most potent insulin manipulating compounds available today. If that's not enough, our researchers discovered that i-RUSH 475 could be made even more effective by adding the super ingredient Karbolyn to rapidly shuttle its powerful ingredients to the point of delivery.*
Formulated for Hardcore Bodybuilders
Promotes Cellular Fullness, Pump & Vascularity*
Supports the Body's Natural Insulin Response to Carbohydrate Intake*
Promotes Greater Uptake of Creatine, Amino Acids & Other Key Nutrients Into Muscle Tissue*
Utilizes Karbolyn to Support Glucose & Carbohydrate Update*
Helps the Body Convert Stored Fat into Energy*
Fortunately, there's a new way to support your own body's natural insulin response. One that's completely safe and legal. Even better, it allows you to do it faster and better than any of the old-school 'Insulin Mimickers' before could ever dream of!*
The Key to Big Gains and Torching Fat with Insulin:*
Timing and Management!
Most people are familiar with the famous "Insulin Spike" and its ability to shuttle anabolic nutrients, such as glucose, creatine and amino acids into muscle cells. However, the biggest drawback is that insulin elevation can also cause an increase of undesirable body fat.
That's why the timing and management of insulin elevation is critical! A properly built 'insulin-mimicking' supplement should not only provide you with all the muscle-building benefits of insulin but also allow you to reduce fat stores at the same time.
For example, since high insulin levels during your workout can decrease the amount of fat you burn, taking an insulin mimicker pre-workout may provide benefits similar to insulin but without the negative effect on fat-burning.*
And that's why i-RUSH 475 was designed to increase the positive effects of insulin without increasing overall insulin levels within the body. Each ingredient in i-RUSH 475 was specifically chosen because of its ability to support the body's utilization of carbohydrates and proteins by potentiating the effects of insulin.*
Despite its amazing effectiveness, you should know i-RUSH 475 only contains nutrients that naturally occur in many foods. There are absolutely NO drugs or artificial ingredients in i-RUSH 475.*
What Should I Expect from i-RUSH 475?
Users typically report that within as little as 5-7 days of regular use, their muscles feel tighter and get even more "pumped" during intense training. Our researchers believe this occurs because i-RUSH 475 aids in increasing the amount of glycogen being pushed into muscle cells, making them larger and stronger.*