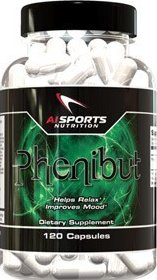 AI Sports Nutrition Phenibut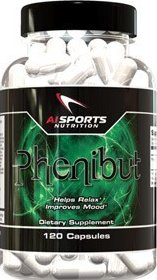 AI Sports Nutrition Phenibut
Phenibut is a derivative of the neurotransmitter GABA. The addition of the phenyl ring gives it the ability to cross the blood-brain barrier.
Discovered in the Soviet Union in the 1960s Phenibut has been said to have nootropic actions, for its ability to improve neurological functions. Phenibut is generally accepted to also have anxiolytic functions in both animals and humans. It is used in Russia as a neuropsychotropic drug, and in the Soviet Union has been used to treat a wide range of ailments including PTSD, anxiety, and insomnia.
Common doses range from 250mg-1500mg twice daily, or as needed.
References:
Khaunina, R.A. (1964). "Tranquilizing effects of beta-phenyl-gamma-aminobutyric acid". Byulleten Experimentalnoi Biologii i Meditsiny 57 (1): 54–58.
Lapin, Izyaslav (December 2001). "Phenibut (ß-Phenyl-GABA): A Tranquilizer and Nootropic Drug". CNS Drug Reviews 7 (4): 471–481.
Shulgina GI (1986). "On neurotransmitter mechanisms of reinforcement and internal inhibition". Pavlov J Biol Sci 21 (4): 129–40.