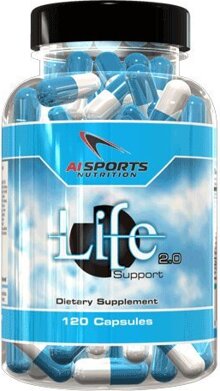 AI Sports Nutrition Life Support 2.0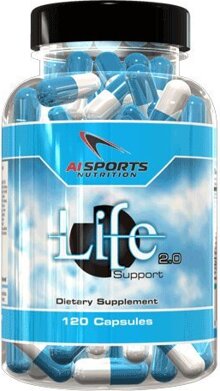 AI Sports Nutrition Life Support 2.0
Supporting your health is very important. The ingredients in Life Support 2.0 may help promote general health and well-being.* Life Support 2.0 also works especially well with hardcore athletes who have beat their body up for whatever reason over time. Life Support 2.0 may help support a healthy liver and immune system.* So pick up your bottle of Life Support 2.0 today and help your body stay healthy and maintain strong defenses. Can you afford not to?
Life Support 2.0 CONSUMER REPORTED HIGHLIGHTS:
Support healthy hormone balance*
Promote the health of the liver and kidneys*
Cardiovascular support*
Support prostate health*
Support Immunity*
Minimizes water retention*
Aids healthy digestion*
Promote Positive Mood*
Red Yeast Rice: Red yeast rice has been used for centuries in China as both a food and a supplement. It is made by fermenting a type of yeast called Monascus purpureus over red rice. In Chinese herbalism, red yeast rice is used to support blood circulation, and help promote healthy digestion.*
Several studies suggest that red yeast rice may help support healthy cholesterol levels already in normal range.*
NAC: Produced by the body, N-acetylcysteine (commonly called NAC) is a form of the amino acid cysteine. Because it enhances the production of the enzyme glutathione, one of the body's powerhouse antioxidants, NAC may help boost the immune system.*
Hawthorn Berry Extract (2% cratagic acid, 5% flavonoid glycosides): Hawthorne Berries have been used since the 19th century to support the heart and to support healthy cardiovascular function.* Today, Hawthorne Berries are one of the most popular herbs used in Europe and gaining wider acceptance in the United States. Primary chemical constituents of this herb include Vitamin C, flavonoids (quercetin, quercetrin), glycosides, proanthocyanidins, anthocynaidins, saponins, tannins, and cratetegin (most prevalent in the flowers, then leaves, and then berries). When used to support weight loss programs, Hawthorne Berries help may reduce water retention. This botanical has also been known to support healthy sleep and aid digestion.*
Pumpkin Seed Extract: Pumpkin seed extract may help support the health of the urinary tract and kidneys.*
Milk Thistle Extract (standardized 80% Silymarin): Milk thistle may help support the liver's ability to maintain normal liver function.* Silybin is a part of the chemical structure of the flavoligan silymarine. Milk thistle may increase the intra-cellular concentration of glutathione, a substance that may help support the health of liver cells.* Milk thistle also supports antioxidant levels.*
Saw Palmetto Extract (>45% fatty acid European pharmaceutical grade powder): Saw Palmetto is a small, palm-like plant native to North America. Native Americans and early American settlers used the berries to support the health of the urinary tract and reproductive systems.* Saw Palmetto is widely used in Germany, Canada, the United Kingdom, and now the U.S. as it may help support the health of the prostate.* The active constituents are volatile oil, steroidal saponin, tannins, and polysaccharides. Saw palmetto may be beneficial for both sexes in helping support balanced hormones and thyroid health.* Because of its potential hormonal effects, pregnant women should not use it. It has also been used to stimulate appetite, improve digestion, nourish the nervous system and support the assimilation of nutrients to the body.*
Grape Seed Extract: GSE has human case reports and reports that suggest that GSE may help support cardiovascular health.* Other areas that it has been suggested to have benefits on are bone health, liver health, and blood flow.*
Nettle Root (10:1 Urtica dioica): Nettle root has been suggested to help support prostate health.* It may also help support a healthy inflammation response.* These possible effects need further study, however.
Celery Seed Extract (Standardized 3nB): Throughout much of history, celery and celery seed has been used as a medicinal herb. Not until relatively recent history has celery been used for culinary purposes. The flavor of celery is somewhat herbal and astringent, but it has a succulent, crisp texture. Because of its low-calorie count, celery is a favorite diet food. Celery seeds may help support the health of the joints and promote healthy blood pressure, already in normal range.*
CoQ10: CoQ10 is a molecule produced in the body. It aids mitochondria during energy production, and is vital for survival. It can also support blood flow and blood vessel health, via nitric oxide preservation, most likely due to its ability to reduce pro-oxidative biomarkers in the body.*
PolicosonolPlus: PolicosanolPlus originates from a natural mixture of Aliphatic Alcohols-Saturated Fatty Acids and Polyunsaturated Fatty Acids (omega-3, omega-6, and omega-9). PolicosonolPlus has been suggested in studies to support healthy cholesterol and LDL levels already in normal range.*