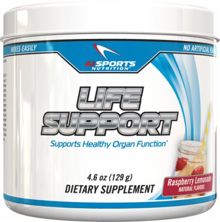 AI Sports Nutrition Life Support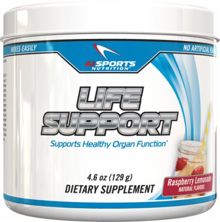 AI Sports Nutrition Life Support
AI Sports has taken Life Support, the best selling organ support formula of all time, to the next level by creating an amazingly refreshing powdered drink. Life Support is now available in a natural delicious tasting powder. This powder mixes easily in water and doesn't use any artificial flavors or sweeteners. It was important for us to use natural ingredients to help reach even the most finicky health enthusiast, but most importantly, it had to taste good! This refreshing Raspberry Lemonade flavor is to die for! Mix this great tasting powder in some ice cold water and you will feel like you're cheating on your diet. It uses all natural ingredients to help our bodies maintain optimal organ function and hormonal balance. AI Sports customers now have a choice between capsules or a healthy refreshing drink to support their organs. Here are some highlights of Life Support Powder which have been reported by users:
Helps maintain a healthy hormone balance*
Helps maintain healthy liver and kidneys*
Supports healthy cardiovascular function*
Supports prostate health*
Supports blood pressure already in healthy range*
Helps maintain a healthy cholesterol balance*
Supports a healthy immune system*
Minimizes water retention*
Aids digestion*
They say that "health is wealth," and we here at AI Sport Nutrition tend to agree. Our health is one of the most important factors when measuring overall quality of life. Therefore, many of us, as we get older, start to focus more on our overall health. Some of the steps that people take towards better health are changing what we eat, adding exercises and adding herbal supplements and extracts to help support optimal healthy body function. AI Sports Nutrition extensively researched the most potent ingredients when creating the Life Support formula. For years now, we have received constant feedback and thank you's from customers we have helped. Life Support has enabled us to reach out beyond our athletic customers to people from all walks of life. Now, all customers can enjoy the same great benefits Life Support provides in a delicious, health supporting supplement!*
RED YEAST RICE
Red yeast rice has been used for centuries in traditional Chinese medicine. It is known as one of the most effective naturally occurring ingredients that has been suggested in some studies to support cholesterol levels already in healthy range.*
N-Acetyl-L-Cysteine (NAC)
N-acetyl-L-cysteine (NAC) is form of amino acid L-cysteine. NAC helps to replenish intracellular levels of the natural and powerful antioxidant glutathione (GSH), which may help support cellular health.* NAC may also help boost the immune system*.
Hawthorn Berry
Hawthorn Berry powder have been used since the 19th century to support the heart and healthy cardiovascular function.*Hawthorn Berries may reduce water retention. This botanical has also been suggested to support healthy sleep and aid digestion.*
Pumpkin Seed Extract
Pumpkin Seed Extract may help support the health of the urinary tract and kidneys.*
Milk Thistle Extract
Milk Thistle Seed Extract may help support the health of the liver.* Milk thistle supports antioxidant levels.*
Saw Palmetto Berry Powder
Saw Palmetto Berry powder: Native Americans and early American settlers used the berries to support the health of the urinary tract and reproductive systems.* It may help support the health of the prostate.* Saw palmetto may be beneficial for both sexes in helping support balanced hormones and thyroid health.* Because of its potential hormonal effects, pregnant women should not use it. It has also been used to support appetite, improve digestion, nourish the nervous system and support the assimilation of nutrients to the body.*
Stinging Nettle Root Powder
Stinging nettle root powder has been suggested to help support prostate health.*
Celery Seed Extract
Celery Seed Extract has been used throughout history as a supplement. It has been suggested to have antioxidative properties.* Celery seeds may also help support the health of the joints and promote healthy blood pressure, already in normal range.*
Coenzyme q10 (cq10)
Coenzyme Q10 (CoQ10) is an antioxidant that is produced in the human body. It is found in mitochondria and it is vital for survival. It is needed for basic cell function and CoQ10 levels tend to decrease with age. It may also support blood flow and blood vessel health, via nitric oxide preservation.*
Policosanol
Policosanol is derived from the Cuban cane sugar It may help support healthy cholesterol levels already in normal range.*
References:
Rosenfeldt F, et al. Coenzyme Q10. J Thorac Cardiovasc Surg. (2005)
Molyneux SL, et al. Coenzyme Q10. J Hamilton SJ, Chew GT, Watts GF. Coenzyme Q10. Diabetes Care. (2009)
Belardinelli R, et al. Coenzyme Q10 and exercise. Eur Heart J. (2006)
Sourris KC, et al. Ubiquinone (coenzyme Q10) prevents renal mitochondrial dysfunction in an experimental model of type 2 diabetes. Free Radic Biol Med. (2012)
Kasperczyk S, et al. The administration of N-acetylcysteine. Clin Toxicol (Phila). (2013)
Farr SA, et al. The antioxidants alpha-lipoic acid and N-acetylcysteine. J Neurochem. (2003)