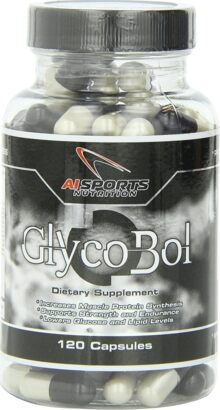 AI Sports Nutrition Glycobol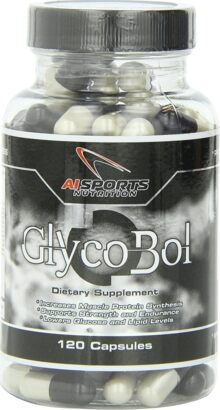 AI Sports Nutrition Glycobol
You look big! You look full! We all know the look and love the feeling. Nothing compares to looking in the mirror and seeing that you have gained size or the feeling of that invincible pump where your muscle are full and nothing hurts. You feel like you could take on the world. Now you can feel that way every time you train. Glycobol works, not like typical muscle gainers, but primarily by its ability to mimic and boost insulin. It is a very powerful nutrient partitioner as well.*
Glycobol helps utilize carbohydrates in a very efficient way which helps boost performance to a new level. No longer will carbohydrates be stored as fat. They will be used to fuel to provide your best workout yet. Grab your bottle of Glycobol today and see how great it is to feel large and in charge!*
Promotes muscle mass, strength and endurance.*
Encourages fat loss.*
Improves recovery time by rapid glycogen resynthesis.*
Provides lasting "pump", hardness and vascularity.*
Drives amino acid and creatine uptake into muscle.*
Increases muscle protein synthesis and inhibits breakdown.*
Maximizes nutrient utilization.*
Potent synergism with endogenous endocrine hormones.*
You asked for something Innovative, now you've got it!
Sodium R-Lipoate (Na-r-ALA)
ALA is naturally produced in the body as a mitochondrial enzyme cofactor. It is important to aerobic metabolism. ALA has been shown to increase cellular uptake of glucose to cell membranes by recruiting the glucose transporter GLUT4. ALA improves skeletal muscle glucose transport, resulting in desirable blood glucose disposal and increased muscle glycogen concentrations. (1) Studies also indicate that in muscle, ALA is a potent anti-oxidant which protects cells from oxidative stress-induced insulin resistance. (2) The ALA used in this formula is chemically stabilized and of the highest quality. It's the most active isomer and the highest potency salt commercially available. ALA is an invaluable addition that offers a multitude of benefits plus countless extras for any serious athlete.*
Bottom Line: Best way to describe this effect is that it almost adds a filter to the muscle fibers; Taking in what it needs to prepare for growth.*
Trigonella Seed isolate (standardized to 10% 4-hydroxyisoleucine)
Fenugreek has been successfully applied for thousands of years to improve health. It corrects blood sugar problems and improves cholesterol scores. Modern research also shows that it improves endurance and lowers blood lactate concentrations dramatically. Treatment with fenugreek seed can also significantly decreases fat accumulation. These results suggest that this improvement in endurance and reduction in body fat is caused by an increase in the utilization of fatty acids as an energy source. (3) Fenugreek supplements high in 4-HIL have also been demonstrated to increase post-exercise glycogen resynthesis in athletes, which promotes rapid recovery and helps prevent training fatigue. (4) The visible results of this glycogenic effect are big, pumped muscles that look extremely full and vascular.*
Bottom Line: Helps you use fatty acids as an energy source, rather than store them as Fat!*
Phellodendron extract (standardized to 90% berberine)
Phellodendron is one of the highly valued traditional Chinese herbs, used medicinally to treat a variety of health conditions. It is reported that some subjects show improved strength, lower blood pressure, and lower blood sugar in response to Phellodendron isolates. Laboratory studies suggest that one of these alkaloidal isolates called berberine may accomplish these benefits by enhancing insulin production. (5) There are also many studies that suggest berberine can reduce total serum cholesterol, dangerous LDL-cholesterol, and unhealthy triglycerides, which would obviously contribute greatly to increased athletic performance and good over-all health. (6) Improved health and increased physical performance translates into greater strength and muscle gains in the gym.
Bottom Line: Increased performance translates into greater strength and muscle gains.*
Cinnamon Bark 20:1 extract (standardized for 16% flavonoids)
Cinnamon is a common spice used all over the world, but it's not commonly known that the spice has significant therapeutic value. Cinnamon contains the element chromium, which is needed for proper glucose metabolism, and also compounds called flavonoids. Flavinoids are potent anti-oxidants which are known to provide protection against cancer and heart disease. The specific flavonoids found in cinnamon bark are shown to stimulate glucose uptake and glycogen synthesis similar to insulin. These flavonoids may activate receptors by direct insulin mimicking action, or indirect insulin potentiation, or both. (7) Studies also show that cinnamon improves lipid profiles for some subjects. (8) If you train consistently and have a healthy diet, your big muscular improvements from this powerful little cinnamon extract might surprise you.*
Bottom Line: Insulin is very anabolic, so the insulin boosting action of cinnamon extract will be bigger, stronger muscles.*
Bis(Maltolato)Oxovanadium (BMOV)
BMOV is an organic form of the mineral vanadium. Although elemental vanadium and inorganic salts of vanadium show significant biological potential, it has a poor therapeutic index due to low gastrointestinal absorbance. BMOV is recognized as safer, more absorbable, and able to deliver a therapeutic effect up to 50% greater than the inorganic forms. (9) Vanadium is one of the rare microelements that can promote a profound boost in endurance and strongly support anabolism. BMOV can give muscles a hardness like you have never experience before. The form of vanadium used in this formula is one of the very best you can find, if not the best.*
Bottom Line: Makes your Muscle harder than ever, increases vascularity!*