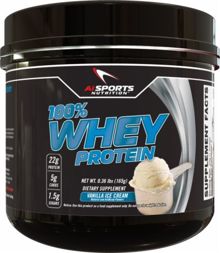 AI Sports Nutrition 100% Whey Protein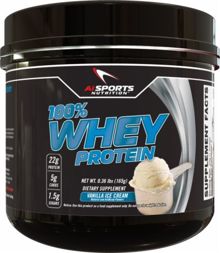 AI Sports Nutrition 100% Whey Protein
Mixes Easily
22 Grams of Protein
Only 1 Gram of Sugar
Less Than 150 Calories
AI Sports 100% Whey Protein is a delicious blend of pure, high quality Microfiltered Whey Concentrate and Ultrafiltered Whey Isolate. What you see on the label is exactly what you get in every scoop. This means no amino spiking of any kind and only the purest whey protein to help you build muscle and recover faster.* AI Sports 100% Whey Protein brings protein powder flavors to a new level, giving you decadent flavors that are low in carbs and fats so you can indulge in delicious whey protein without feeling guilty. Our whey protein mixes easily without any clumping, giving you a smooth consistent texture that you would expect from a high quality protein powder. AI Sports 100% Whey Protein is an excellent choice of protein for any fitness and wellness goal.
Who can benefit from AI Sports 100% Whey Protein?
Anyone 18 years or older looking to increase their consumption of healthy protein!
What separates AI Sports Nutrition 100% Whey Protein?
AI Sports Nutrition has some of the best tasting and easiest to mix shakes in the industry. We take great pride in our flavors. Each flavor is selected through a very rigorous process. Our flavors are taste tested by some of the top distributors and retailers in the supplement industry before the first batch is approved for manufacturing. This ensures the flavors have been well received by people who use and sell protein daily. Our formula is very simple, but extremely delicious. No bells and whistles, and no added extras or sales gimmicks. AI Sports 100% Whey Protein mixes very easily into an extremely satisfying, smooth shake with amazing taste.
How much should I take?
As a dietary supplement, mix one scoop with 8 oz of water or milk.