Quick Links to Best Prices Price History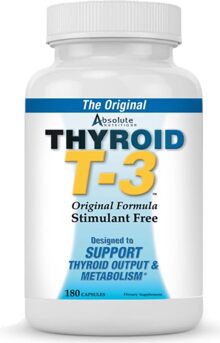 Absolute Nutrition Thyroid T-3
Created from Natural Sources with No Stimulants for Boosting Metabolism*
Some people go to real extremes
to support thyroid metabolism.* Thyroid T-3 is a nutritional supplement from natural sources by Absolute Nutrition. It is specially formulated. This product contains no stimulants.
The main ingredient, Gum Guggul Extract, delivers a powerful 300 mg of guggulsterones per dosage.
Thyroid T-3 also contains phosphates, which are found in high-energy compounds such as ATP and phosphocreatine.
L-Tyrosine, an amino acid found in Thyroid T-3, is used by the thyroid gland.
Thyroid T-3 also contains Phosphatidyl Choline.