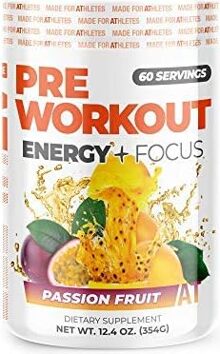 About Time Pre Workout Energy + Focus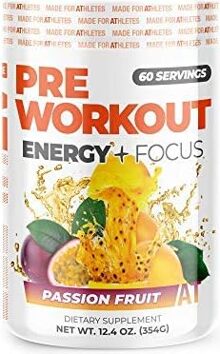 About Time Pre Workout Energy + Focus
About Time - Energy & Focus Pre-Workout Formula Passion Fruit - 12.4 oz
Naturally enhance your workout! AboutTime does not believe in sacrificing one good thing for another... they think you should be able to have it all! That's why they developed products that stand for great quality and taste. They also appreciate simplicity, which is why this pre-workout formula has simple ingredients that you can actually pronounce. The blend includes a natural assortment of teas, which provide a more euphoric energy increase without the caffeine jitters and crashes. Each serving is zero calories and contains 60 mg of caffeine to help give you energy, drive & focus.
Pre-Workout Formula Benefits:
Sweetened With Stevia
No Artificial Colors or Flavors
No Synthetic Caffeine
Gluten Free
No Jitters or Crashes
The scoop has lines on it. Where do I fill it to?
Please fill the entire scoop to the top. Dry measure is different than wet measure. You can also weigh out the serving size on a gram scale.

What does natural flavors consist of?
Currently About Time uses items such as red beet root, beta carotene, mint, cocoa powder, carob powder, vanilla bean, peanut flour, cinnamon, pumpkin pie spice and nutmeg.

Are their products organic?
Currently About Time uses many organic raw materials but are not certified organic.

Are they kosher?
Currently About Time is not kosher certified.

Are they gluten free?
Most of About Time products are gluten free. They third party test for gluten on all batches, but are not a certified gluten free facility.

Is their whey grassfed?
Yes! They use grassfed whey in all of their whey products. Due to volume and possibilities of grassfed shortages, they do not advertise this on their labels.

Is their whey lactose free?
Their whey isolate meet all federal label claims for determination of being lactose free. They third party test all batches for lactose.

Is their whey or plant based proteins soy free?
Yes! Both types of proteins are soy free.

Can pregnant women take their products?
Since every person and every pregnancy is different, they do ask that you speak with your doctor before taking any products. About Time supplements are made with No artificial ingredients, No banned substances, No synthetic caffeine.