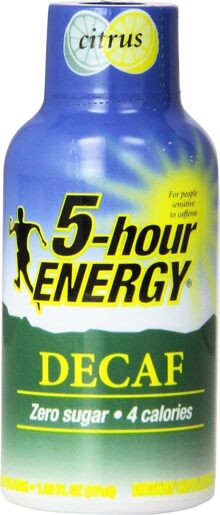 5 Hour Energy 5 Hour Energy - Decaf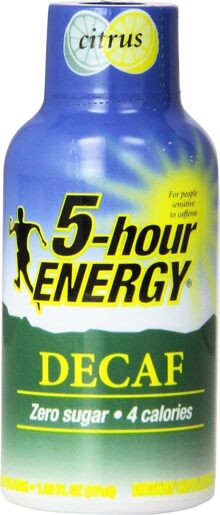 5 Hour Energy 5 Hour Energy - Decaf
5-Hour Energy - Decaf Overview

When you need a burst of energy that won't give you coffee jitters, experience the high-energy satisfaction of 5-Hour Energy Decaf Citrus. This delicious niacin-free decaf version of America's favorite 5-Hour Energy drink is available in the economical 12-bottle case from All Star Health. Start your day with a mini bottle of 5-Hour Energy Decaf that doesn't have the high caffeine content of traditional 5-Hour Energy caffeine drinks. It's a perfect midday pick-me-up, too. Drinking cup after cup of coffee for that wide-awake feeling can give you a case of the coffee jitters, and lead to unsightly stains on your teeth. Coffee can taste bitter, too.
Now there's a decaf version of the mega-popular 5-Hour Energy drink. Just read our 5-Hour Energy reviews to discover why this handy little energy boost is such a hit. Keep a mini bottle in your desk drawer and in your car's glove compartment. Tuck an energy boost in a bottle in a purse or briefcase. The citrus flavor is refreshing. Each compact plastic bottle of 5-Hour Energy Decaf contains a proprietary blend of B-complex vitamins and special blend of amino acids. Just like decaf coffee, it's not completely caffeine-free, but you'll enjoy a much smaller amount with each sip.
Unlike regular or decaf coffee, you won't have to worry about coffee breath, either. 5-Hour Energy without caffeine also has none of the niacin inside traditional 5-Hour Energy drinks that can cause some users to experience an uncomfortable case of niacin flush. Decaf 5-Hour Energy without niacin can provide hours of what fans describe as more alertness and focus. Shop all our proven products at AllStarHealth.com for your healthy lifestyle.
Now there's a decaf version of the mega-popular 5 Hour Energy drink that's perfect those who are sensitive to caffeine but still need an energy boost. The success of 5 Hour Energy is due to the simple fact that it works, but there's always been much more to 5 Hour's effectiveness than caffeine. The energy in the new 5-Hour Energy Decaf comes from a proprietary blend of B-complex vitamins and specific amino acids. It's not completely caffeine-free, there's about 6 mg of caffeine per serving, but there's still plenty of non-jittery energy. 5 Hour Energy Decaf was also formulated without the niacin of the regular 5 Hour Energy Drink, so there's no niacin flush. Try 5 Hour Decaf if you're one of the many people who'd love to use energy drinks but can't. Order a case and see what it feels like to get an energy boost without caffeine issues.
5-Hour Energy - Decaf Description from 5 Hour Energy
SENSITIVE TO CAFFEINE? Still need extra energy to get through your day? Decaf 5-Hour Energy can provide hours of alertness and focus without making you feel jittery.
Supplement Facts
Serving Size: 2 fl.oz
Servings Per Container: 12
Ingredient
Amount
% Daily Value**
Calories
4
Calories from Fat
0
Vitamin B6
40mg
2000
Folic Acid
400mcg
100
Vitamin B12
500mcg
8333
Sodium
10mg
Energy Blend
2106mg
-Choline
-Glucuronolactone
-N-Acetyl L-Tyrosine
-L-Phenylalanine
-Taurine
-Malic Acid
-Caffeine (6 mg)
Enzyme Blend
1mg
-Amylase
-Protease
-Lipase
-Cellulase
-Lactase
** Percent Daily Value is based on a 2000 calorie diet. Your daily values may be higher or lower depending on your calorie needs.
† Daily Value not established.

Ingredients:
Purified water, Natural and Artificial Flavors; Potassium sorbate, sodium benzoate and EDTA (to protect freshness); Sucralose.
Manufacturer's Directions
FOR MAXIMUM ENERGY: Drink entire bottle at one time.

FOR MODERATE ENERGY: Drink a half bottle or less. Use or discard within 72 hours (or 3 days) after opening. Refrigeration not necessary.
Manufacturer's Disclaimer
DECAF 5-HOUR ENERGY contains 6 mg of caffeine - about as much as half cup of decaffeinated coffee.

Not for use by children under 12 years of age.