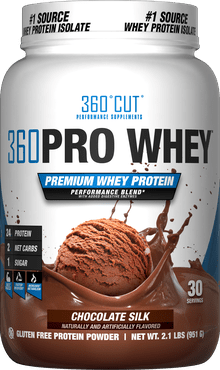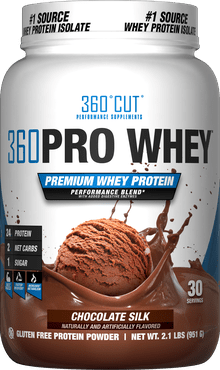 Premium Whey Protein
24
G
PROTEIN
2
G
PROTEIN
1
G
PROTEIN
Performance Blend*
With Added Divestive Enzymes
PREPARE TO BE GREAT!
360PRO WHEY is designed with:
Primary Source Whey Protein Isolate
Great Tasting Flavors
DigestIVE Enzyme Complex for Supported Absorption*
Low Carb, Low Fat, Low Calorie
Zero Gluten; Zero Artificial Colors or Dyes.
360PRO Whey
Benefits
No extra fillers OR additives*
SOY FREE*
Over 10.7 grams BCAA per 2 scoops*
Instantized for easy mixing*
Lose Fat & BUILD Muscle*
Increase Size & Strength*
Reduce Hunger*
Made for Performance Athletes
Whey Protein
Isolate
Whey protein isolate is one of the most complete and bioavailable forms of protein on the market. It is low in carbs, fats, cholesterol, and lactose due to its extensive filtering process during manufacturing. It is also a great source of amino acids such as L-Leucine, L-Isoleucine. L-Valine, L-Glutamine, and L-Cysteine. The high concentration of branched chain amino acids found in whey isolate are specifically responsible for the optimal maintenance and repair of muscle tissue. L-Glutamine and L-Leucine stimulate protein synthesis after exercise.
Whey Protein
Concentrate
Whey protein concentrate is a complete protein that is fast and easy to digest. It contains all 20 amino acids that make up the individual components of protein and helps to repair muscle.
Whey Protein
HYDROLYSATE
Whey protein hydrolysate is the fastest most readily absorbed form of whey protein because it has been predigested. This makes it excellent for increasing muscle protein synthesis post-workout and limiting muscle damage.
DESIGNED FOR OPTIMUM RESULTS
360PRO WHEY is packed with 24 grams of muscle building Whey Protein Isolate, Whey Protein Concentrate, and Whey Protein Hydrolysate to support optimal digestion and utilization. Each serving of 360PRO WHEY supplies an ideal amount of BCAAs and other Amino Acids to help repair muscle tissue, speed recovery, and maximize muscle growth.
360PRO WHEY Premium Protein is extremely important for the growth and repair of muscle tissue. Research suggests that taking protein before and after workouts is the best way to trigger new and enhanced muscle growth, speed muscle tissue repair, and gain additional lean, quality muscle mass. 360PRO WHEY is an essential part of your supplement arsenal; don't hit the gym without it!