Quick Links to Our Prices Price History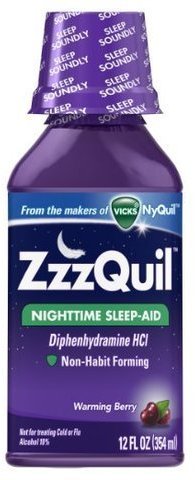 ZzzQuil Nighttime Sleep-Aid Liquid
ZzzQuil Nighttime Sleep-Aid Liquid Warming Berry Description
From the Makers of Vicks NyQuil
OTC Relief for Occasional Sleeplessness
Non-Habit Forming
Warming Berry Flavor
A Beautiful Night's Sleep Awaits
When you're having trouble getting that sound sleep your internal clock craves, add some Zzz's to your night with ZzzQuil. This non-habit forming sleep-aid helps you get some shut-eye, so you can wake up feeling refreshed. Available in warming berry flavor.
Uses
• for the relief of occasional sleeplessness
• reduced time to fall asleep if you have difficulty falling asleep
Directions


Take only one dose per day (24 hours) - see Overdose warning. Use dose cup or tablespoon.

Adults & children 12 years and over: One Dose = 30 mL (2 tablespoons) at bedtime if needed or as directed by a doctor.