Warning: This product is not currently available at any store.
Click the button above and PricePlow will email you when the first store has it in stock!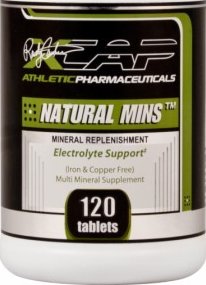 Xtreme Couture Natural Mins
PRODUCT BENEFITS
To replace minerals (electrolytes) that are depleted from exercise.*
Why These Minerals are the Best
Minerals found in food and dietary supplements are 'chelated' to mineral carriers, also known as mineral salts. The mineral salt form influences the intestinal absorption and bioavailability of the ingested mineral. For example calcium citrate, aspartate, lactate, and gluconate forms have a much higher absorption rate than calcium oxide, carbonate, and phosphate forms (1).
As such XCAP only uses the most bioavailable forms of minerals in the aspartate, gluconate, and citrate forms. The trace minerals, including chromium, selenium, and vanadium are implanted directly into the plant base, supplying the minerals in the most natural form possible.
Important Minerals for Athletes
Minerals play critical roles in many physiological processes, especially the metabolic pathways involved in protein, fat, and carbohydrate metabolism needed for energy utilization. There are 21 minerals that constitute roughly 4% of our body mass at any given time. Athletes require higher amounts of minerals to maintain peak physiological function during physical training and performance (6).
Calcium is an essential nutrient bone mineralization, nerve conduction, muscle contraction, enzyme regulation, and blood coagulation (2).* Nerve transmission enabling forceful contraction of skeletal and cardiac muscle tissue is dependent on calcium (2).*
Zinc is a critical mineral for athletes, and several recent studies have found that plasma zinc levels are frequently suboptimal in athletes (plasma levels below 80 micrograms/dL) (4). More than 60% of the Zinc body content is present in muscle (6). Zinc is excreted in large amounts in the urine and sweat during exercise bouts, and during periods of increased stress and heat (4). A study involving 12 trained athletes with normal plasma zinc levels prior to a 30 minute hard exercise bout found that 25% of the athletes had sub-optimal zinc levels following the intense 30 minute exercise (5).*
Magnesium, along with calcium and potassium, are alkaline ash minerals. Consumption of which help induce alkaline physiology, while deficiency states induce acidosis (3).
Magnesium plays a key role in more than 350 enzymes-virtually every metabolic process in the body- including numerous enzymes in glucose, protein, and fat metabolism, RNA and DNA synthesis, formation of active cofactors from B complex vitamins, synthesis of glutathione and S-adenosylmethionine (SAMe), cell signaling, and protein phosphorylation, among others (3).* More than 35% of stored magnesium is found in muscle tissue (3).
Chromium is an important mineral for the utilization and metabolism of glucose.* Chromium is stored in the liver, released after a meal to lead to activation of insulin mediated glucose uptake.*
A study involving competition boxers found that magnesium and chromium are particularly susceptible to excretion during physical training (6). Urinary chromium excretion rates double after exercise (4).
References
Reusens, B. Functional Foods, aging, and degenerative disease. Woodhead Publishing 2004.
Gropper, S. et al. Advanced Nutrition and Human Metabolism. 5th Edition. Wadsworth Cengage Learning. Belmont, CA. 2008.
Lord, R., Bralley, A. Laboratory Evaluations for Integrative and Functional Medicine. Metametrix Institute. Vol. 2. Deluth, GA. 2008
Wolinsky, I. Nutrition in Exercise and Sport. 3rd Edition. Fitness Technologies Press. Ann Arbor, MI. 1998.
Aruoma, OI. Iron, copper and zinc concentrations in human sweat and plasma; the effect of exercise. Clin Chim Acta. 1988 Sep 30;177(1):81-7.
Saraymen, R. et al. Magnesium, Copper, Zinc, Iron and Chromium levels in Sweat of Boxers. InoANnu Universitesi Tip Fakultesi Dergisi. 10(3) 121-125 (2003)
Mazur, A. Magnesium and the inflammatory response: Potential physiopathological implications. Archives of Biochemistry and Biophysics. Volume 458, Issue 1, 1 February 2007, Pages 48-56