Warning: This product is not currently available at any store.
Click the button above and PricePlow will email you when the first store has it in stock!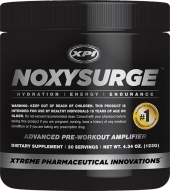 ADVANCED PRE-WORKOUT AMPLIFIER
ULTIMATE NITRIC OXIDE STIMULATOR
RE-ENGINEERED PRE-WORKOUT IGNITER
EXPLOSIVE ENERGY, ENHANCED ENDURANCE
PUSH YOUR LIMITS & YOUR PERFORMANCE
A STRAIGHT-FORWARD SCIENTIFICALLY PROVEN FORMULA
To make the most of your training sessions, both mental and physical stamina are vital. XPI NoxySurge is a complete pre-workout igniter that helps you achieve a greater workout intensity and push your body past previous limits. By activating nitric oxide production, NoxySurge supports increased energy, endurance, and muscular strength. With the addition of glycerol, electrolytes, and coconut water, NoxySurge revitalizes your body and keeps your muscles primed for second-to-none intensity.
NoxySurge uses advanced ingredient technology for a formula that works synergistically to enhance overall workout performance. To maximize endurance and power, agmatine[1], betaine[2], norvaline, and more work to enhance nitric oxide levels and deliver explosive energy, enhancing your workout intensity from start to finish.
XPI pros know how to make a product that delivers incredible results. NoxySurge delivers the ideal combination of energy-enhancing compounds[3] with hydrating glycerol[4] and electrolytes to further enhance your workout capacity and allow you to exercise for longer.
You'll love the taste of NoxySurge from the very first sip. Make your workouts legendary with the evolution of NoxySurge!
References [+]
References [-]
[1] Klahr S, Morrissey JJ. Agmatine Activation of Nitric Oxide Synthase in Endothelial Cells. Proceedings of the Association of American Physicians. 109:1. (1997): 51-57.
[2] Lee EC, et al. Ergogenic Effects of Betaine Supplementation on Strength and Power Performance. Journal of the International Society of Sports Nutrition. 7:27. (2010): 1-7.
[3] Mittleman KD, et al. Branched-Chain Amino Acids Prolong Exercise During Heat Stress in Men and Women. Medicine and Science in Sports and Exercise. 30:1. (1998): 83-91.
[4] Montner P, et al. Pre-Exercise Glycerol Hydration Improves Cycling Endurance Time. International Journal of Sports Medicine. 17:1. (1996): 27-33.