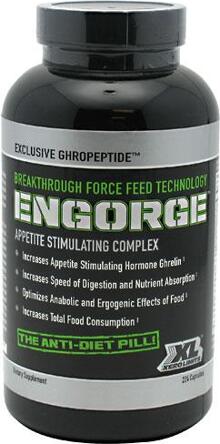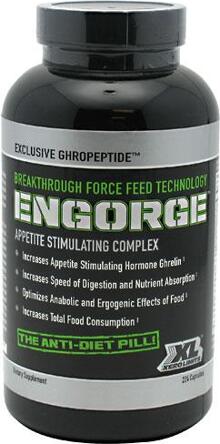 IF YOU'RE NOT AS BIG AS YOU WANT TO BE, CHANCES ARE YOU'RE NOT EATING ENOUGH.
To Get Big you need to Eat Big! The most critical component of any mass-building program is to ensure that you are getting the optimal nutrition and caloric intake to induce maximum muscle growth. No matter how hard you work out, you will never make maximum gains in muscle mass without the proper nutrition and caloric consumption.
ENGORGE Breakthrough Formula Triggers Insatiable Appetite so You Can Finally Pack on MASS!
ENGORGE has been formulated by Xero Limits researchers with an advanced Force Feed Technology. Through a series of physiochemical signals, this breakthrough technology targets key biomarkers that regulate hunger, satiety, gastric expansion and digestion, allowing you to consume more food and total calories. To activate an insatiable desire to eat and an appetite of massive proportions, ENGORGE stimulates the hunger hormone ghrelin with its exclusive Ghropeptide. As you feed your new ravenous appetite, ENGORGE's MacroMore Gastic Expanding Complex relaxes the smooth gastric muscle tissue of your stomach, thereby increasing stomach volume, filling capacity and delaying fullness so you can pack in more food than ever before.
To improve the digestion and enhance the nutritional uptake of these large meals, a BioEngineered Anabolic Optimizing Digestive Enzyme Complex has been specially designed for ENGORGE. This revolutionary enzyme complex, Anabolzyme, also speeds stomach emptying so you are ready to devour your next meal and continue the force feeding required for massive growth!
The Anti-Diet Pill:
Revolutionary Ghrelin-Releasing Complex Induces Hunger Stimulation
Increases Anabolic/Anti-Catabolic Effects of Food
Specifically Formulated Enzyme Blend for Optimal Digestion of Protein, Fat and Carbs
Advanced CCK Hormonal Technology Increases Total Food Consumption
A MUST-HAVE SUPPLEMENT FOR HARDGAINERS AND OFFSEASON MASS BUILDING!!!