Warning: This product is not currently available at any store.
Click the button above and PricePlow will email you when the first store has it in stock!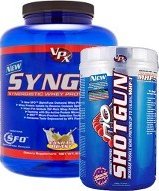 VPX Syngex/Shotgun Muscle Building Stack
VPX Syngex Protein 5lbs
VPX is proud to bring you cutting edge NEW Whey Protein Isolate called, SpiroFuse Reverse Osmosis or SFRO! This Invention is Whey Protein Isolate by Reverse Osmosis SpiroFuse Filtration or SFRO. Roughly 10 years ago VPX was the first, company ever to release a ceramic filtered Whey Protein Isolate supplement called, CFM (Cross Flow Microfiltration). This created quite a stir in the supplement industry because until this time, only whey protein concentrate (WPC) or low grade Ion Exchange WPI was available.
As you can imagine there has been significant improvements in whey protein technology in the past 10 years. As a result of these superior scientific advancements, VPX Is utilizing super high tech new membrane systems that produce Isolated proteins that are 99%+ pure and are, ultra rich in potent low molecular weight micro-fractions (LMWF). VPX is also using a new Whey Protein Concentrate that is designed to keep the fat globule portion of the protein intact which preserves the integrity of the naturally occurring IGF-1 and IGF-2.
Consequently, Syngex was born - a synergistic blend of the world's most cutting edge Whey Protein Isolate and Concentrate! The Syngex flavoring system is also NEW and developed by VPX flavor experts. These new potent proteins and flavor technologies are only available Inside of Syngex Protein and other VPX protein products. VPX is creating the future of muscle science, bodybuilding and performance enhancement for your success.
VPX No-Shotgun
Arnold himself referred to "The Pump" as something "Better Then Sex!" It is "The Pump" that signals us hard training athletes lifting for size and definition that we are maximizing our efforts in the gym.
No-Shotgun stimulates episodes of physical intensity to encourage insane muscle pumps that can lead to muscle growth. The biochemical and physiological response to No-Shotgun when joined with intense resistance training causes extra trauma to occur to trained muscle. More resistance to muscle results in substantially increased internal pressure (the pump)…And as you know, the better the pump the greater the trauma caused to muscle-tissue. The end result: greater ability to build larger muscle!
No-Shotgun is the first product of its kind to use an enhanced synergistic blend of effective compounds combined with a cutting-edge pharmaceutical delivery system that yields mind blowing, skin bursting effects, while additionally enhancing recovery and protein synthesis. Compounds such as Creatine (CEX), Arginine (AEX), Glutamine (GEX), Beta-Alanine (BAEX) and Branch Chain Amino Acids (BCAAEX) that are each combined with Ethyl Ester (EX) technology to guarantee maximum absorption and uptake! The Ethyl Ester Compounds used in No-Shotgun help these powerful muscle building ingredients join the bloodstream nearly 100% intact, as opposed to the very same ingredients without EX technology that might only be absorbed at a rate of 15% to 40%. This highly advanced EX technology transfers these No-Shotgun compounds across the muscle cell membrane where they can ignite explosive muscle growth!
No-Shotgun is the most advanced product of its kind…Bar none! VPX is so positive in the effectiveness of No-Shotgun that we have offered $100,000 to ANY supplement company that can conclusively prove in a double-blind University Study that their supplement is better at creating lean muscle, enabling greater ATP production for more explosive workouts and initiating NO induced, blood engorged pumps.
What are you waiting for… Your buddy to be the first one to use No-Shotgun?