Warning: This product is not currently available at any store.
Click the button above and PricePlow will email you when the first store has it in stock!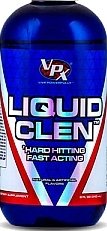 VPX Liquid Clen
Mind-Blowing Fat Loss!*
Crisp Water-Free Muscle Separation!
Crystal Clear Mental Focus & Energy!
Dispensing Device Allows Custom Dosing!
Serum Based Works Fast / Hits Hard!
Body Blazing Thermogenesis!
WORKS FAST, HITS HARD
That about sums up the fat-blasting, mind-blowing Liquid Clen. Scientifically formulated to jack up your metabolism faster than a Ferrari on rocket fuel. Liquid Clen is certified by science, backed by the real world, and proven to give you mind blowing energy that is unparalleled. Liquid Clen is back by popular demand. Why? Because of the authentic synergistic blend of ingredients that leave scientists wondering how can something be this amazing, while gym goers like you count your blessings that Liquid Clen is back. Our new formula includes Evodiamine, Yohimbine HCl, alpha-Yohimbine, 11-hydroxy Yohimbine, Theacrine, Huperzine A, and Caffeine Anhydrous to mention a few. Many of our amazing ingredients act as sympathomimetic agents by ratcheting up your metabolic rate and fat burning furnace to the nth degree. Once you've tried Liquid Clen, you'll forget other fat burners ever existed. Liquid Clen, the world's most legendary underground fat incinerator!*