Warning: This product is not currently available at any store.
Click the button above and PricePlow will email you when the first store has it in stock!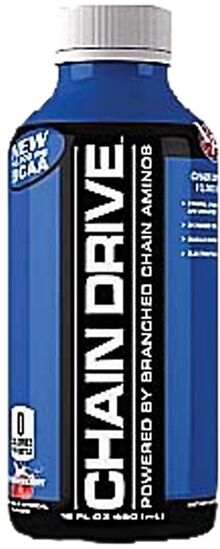 CHAIN DRIVE RTD
   10,000 MG BCAA
STAMINA, STRENGTH AND RECOVERY ARE ENHANCED!*
INCREASED MUSCLE PROTEIN SYNTHESIS!*
MUSCLE SPARING EFFECT!*
ELECTROLYTE AND HYDRATION MATRIX
WHAT IS CHAIN DRIVE
POWERED BY BRANCHED CHAIN AMINOS
CHAIN DRIVE is the latest innovation from VPX that features solubilized BCAAs, which are suggested to have superior bioavailability versus other types of BCAAs. This solubilization technology gives stability to BCAAs in a liquid solution, with NO foam and NO wasted powder at the bottom of your container!
BCAAs, which constitute links in a protein chain, are essential for a variety of functions, including increased muscle protein synthesis, decreased muscle soreness, and have a muscle-sparing effect on muscle tissue.* They are essential for performance, endurance, and recovery. Furthermore, leucine is the most important of the BCAAs, and studies suggest that leucine can help maintain strength and improve exercise performance.*
CHAIN DRIVE is a very versatile product. Consume CHAIN DRIVE prior to a fasted workout, during a workout or athletic event, or post-workout with PROTEIN RUSH or SRO ZERO CARB for maximum recovery and muscle protein synthesis.*
RECOMMENDED USE
CHAIN DRIVE can be consumed pre or post workout and/or during training and can be stacked with your favorite pre and post workout supplement. CHAIN DRIVE can also be combined with PROTEIN RUSH or SRO ZERO CARB PROTEIN to create a great supplement shake. Always drink 12 to 16 ounces of additional water with each CHAIN DRIVE drink.