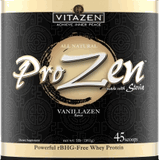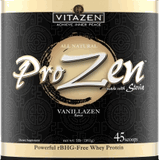 Pro-Zen by Vitazen is a potent Whey Protein delivering 30g of protein per serving. It mixes easily and is incredibly delicious because it's sweetened with stevia. ProZen is a true rBHG protein which is a hormone free whey protein, combined with a blend of all high quality proteins and digestive enzymes used in ProZen.

Directions: Mix ProZen in a shaker or blender cup while heading to the gym, or to replace a meal or just on the go. ProZen is the best way to get a powerful dose of protein or any time of the day. Just add one rounded scoop of ProZen to your shaker cup and then pour in 6-8 fl. oz of water or your preferred beverage. Cover and shake for 25-30 seconds.

Tip: Mixing one scoop with 10-12 fl. oz of nonfat milk instead of water will give you a thicker, creamier shake.

These statements have not been reviewed by the Food and Drug Administration. This product is not intended to diagnose, treat, cure or prevent any disease.