Warning: This product is not currently available at any store.
Click the button above and PricePlow will email you when the first store has it in stock!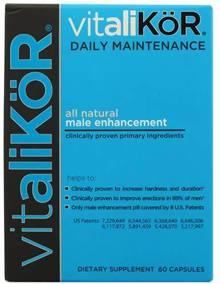 Vitality Research Labs VitaliKor Daily Maintenance
Swipe left/right to reveal product information
Two Solutions = One Powerful System = Total Confidence
All Natural Male Enhancement Formula.*
Validated by clinical studies conducted at Stanford University, New York Medical College, and University of Hawaii.
Naturally improves your "sexual physiology", maximizing the effective of any prescription sexual enhancer you might be taking.*
In a university clinical study, this formula by itself improved the ability to maintain an erection in 89% of subjects tested that suffered from moderate to severe erectile dysfunction. Imagine what it can do when combined with a prescription sexual enhancer.
Also a powerful nitric oxide and circulatory enhancer, pumping up the key sexual response pathways that pharmaceutical drugs work on.*
Can significantly increase the hardness and duration of an erection when combined with any pharmaceutical sexual enhancer.*
VitaliKor's dual system, with its powerful blend of ingredients can help put an end to all your sexual performance problems. Our intensively researched formula, is designed to help you perform on demand. Not only that, it also works 'under the radar', over time to nourish, and overhaul your entire sexual health system, until it is running as efficiently as a Swiss watch!*
You will soon have complete sexual peace of mind. Whether you want to impress a current partner or you have confidence issues with new partners… in the future, you'll know that performing between the sheets presents no problems at all. In others words, you'll enjoy every second… just the way it should be.*
What Exactly is VitaliKor?
VitaliKor Daily Maintenance is a state of the art, scientifically proven, male enhancement supplement system. Consisting of two extremely effective parts to create the ultimate male sexual health solution. You simply take one part of the VitaliKor system on a daily basis and the other part hours or so before sex. That's it! This could be an end to your erection problems. No exercises. No equipment. No effort. Just 3-6 capsules a day for TOTAL confidence and peace of mind.*
If you've tried the well known 'Pharma' products you'll know how annoying the blue vision, dry mouth, blocked nose and in some cases the diarrhea can be. Definitely NOT sexy! But you don't get side effects with VitaliKor. Just strong, long lasting erections, increased sexual stamina, more intense orgasms and faster recovery time.*
In other words, everything you need to make sex as intense and enjoyable as you've longed for.*
Take VitaliKor Daily Maintenance to help nourish and optimize your sexual health system on a daily basis and consider also taking VitaliKor Fast Acting Formula when you need extra immediate support.*
VitaliKor is Covered by 8 U.S. Patents!
Yes it's true… VitaliKor Daily Maintenance is the ONLY natural enhancement product covered by 8 U.S. patents: 7,229,649 | 6,544,563 | 6,368,640 | 6,646,006 | 6,117,872 | 5,891,459 | 5,428,070 | 5,217,997.
But that's not all, VitaliKor is also validated by Stanford University, New York Medical College, and University of Hawaii research studies. And for your peace of mind, VitaliKOR is backed by GMP testing certified manufacturing facility.
VitaliKor Daily Maintenance
VitaliKor Daily Maintenance is a scientifically proven nutritional formula that works to nourish, support and optimize your entire sexual health system, making sure you can perform on demand – every time…without fail. The patented VitaliKor DM formula contains a unique combination of natural herbs and nutrients specifically chosen for their ability to target the underlying biological processes that help you achieve and maintain an erection. It also contains ingredients that maximize your stamina and intensify your pleasure.*
First Things First: It's All About the Nitric Oxide
Scientists and Doctors already know that the inability to achieve and maintain a hard erection, is usually the result of bad circulation in the penis and surrounding area. VitaliKor Daily Maintenance was developed based on this knowledge. Because the good news is, we also know that certain botanical extracts may help boost the levels of nitric oxide in the blood. Nitric Oxide is ESSENTIAL for circulation, erection, and arousal… So it makes perfect sense that if your levels of Nitric Oxide are low, you'll struggle to get and maintain an erection.*
But the VitaliKor Daily Maintenance formula works on much more than just raising your levels of nitric oxide… We've researched many different ingredients to make this formulation the best male enhancer on the market. Not just one benefit . . . but a complete overhaul of your sexual health.*
The combination of each ingredient plays a crucial role in the functionality of the blend. VitaliKor will help you increase stamina, decrease recovery time and provide the confidence and peace of mind you need to be relaxed when it comes to sex.*
L-Arginine
L-arginine is an amino acid that plays a major role in sexual function since it is used in the production of nitric oxide or NO, which is necessary for an erection. Researchers have found that nitric oxide is one of the most important chemicals for achieving and maintaining an erection due to its effects on the muscles and blood vessels in the sponge-like regions of the penis called erectile tissue.*
When stimulated, there are channels in this region that relax and fill with blood, which increases the pressure and volume in the penis, leading to an erection. This process is controlled by a number of chemicals that naturally occur in the body. There are three that restrict blood flow to the penis in order to get rid of an erection or prevent an erection, while nitric oxide expands these channels to cause an erection. Usually these factors are in balance. However, problems getting an erection develop there is not enough nitric oxide. This unbalanced system makes it so the muscle in the erectile tissue remains flaccid. Therefore, the bottom line is without sufficient amounts of nitric oxide you do not get an erection.*
Since nitric oxide is made from the amino acid L-arginine, researchers have used L-arginine supplements in the treatment of erectile dysfunction (ED). In one small trial of men with ED, participants were given arginine daily for two weeks. At the end of the study period, 40% of the men in the treatment group reported an improvement in their erectile function compared to none in the placebo group.*
In a larger, double-blind clinical trial, 50 men with confirmed ED took either L-arginine or a matching placebo. After six weeks of treatment, 31% of the men taking the L-arginine supplement reported a significant improvement in their sexual function. It is interesting to note that all of the patients who reported positive results had low levels of nitric oxide before the study began and that these levels had doubled by the end of the treatment period.*
Because L-arginine is a supplement that is taken regularly, it works over time to increase nitric oxide concentrations. As a result, men are able to achieve a natural, spontaneous response to a partner's stimulation without the need to take a prescribed pill in advance of sexual activity.*
Panax and Korean Ginseng
In Asia, ginseng is one of the most commonly used herbs for the treatment of sexual dysfunction. This is because ginseng's activity is thought to enhance physical performance, as well as sexual stamina.*
Studies conducted with laboratory animals have shown that Asian varieties of ginseng enhance libido and sexual performance. According to researchers, there is good evidence that some of the chemical components of ginseng (known as ginsenosides) work to enhance erections by directly inducing the blood vessel widening and relaxation of the erectile tissue by enhancing the production of nitric oxide in the endothelium. Ginsenosides also have heart protecting, immune stimulating, anti-fatigue and antioxidant properties that may also improve erectile function and have therapeutic actions in ED.*
Clinical research has shown that ginseng supplements are a good treatment option for men with ED. In one randomized study, 90 men with ED were divided into three groups and given either Panax ginseng, placebo or trazodone (an antidepressant). The researchers reported that the men taking the ginseng supplement had a significant improvement in erectile parameters such as penile rigidity, girth, duration of erection, improved libido and patient satisfaction. Overall, the ginseng improved erectile dysfunction by 60% compared to 30% for the other two groups.*
In a more recent, double-blind, placebo-controlled, crossover study, 45 men with ED were divided into two groups and received either ginseng or a placebo (starch capsule with ginseng flavor) three times a day. After eight weeks, ginseng supplementation produced a significant increase in erectile function and penile tip rigidity compared to placebo. The researchers speculated that the activity of ginseng for ED may include improvements in nitric oxide levels.*
Based on the available research it appears as though the therapeutic activity of ginseng is modest in comparison to the current treatment choices for ED. However, its ability to increase erectile capacity is increased exponentially if used in combination with other supplements that increase nitric oxide production. These include ingredients like the L-arginine and Ginkgo biloba found in VitaliKor DM.*
Gingko Biloba
Ginkgo has been used for centuries to support blood circulation and mental focus, but the idea that ginkgo can be used to treat ED is fairly recent. This idea came about when male geriatric patients taking ginkgo to enhance their memories reported improved erections.*
Several studies conducted in animals have shown that ginkgo promotes relaxation of vascular smooth muscle in a dose-dependent manner. In humans, this has been shown to occur in the erectile tissue of the penis, causing researchers to conclude that like ginseng, ginkgo stimulates the release of nitric oxide. This suggests that ginkgo may synergistically enhance the erection-promoting action of L-arginine and ginseng.*
Vitamins and Minerals
Another major factor that contributes to the development of ED is oxidative stress. It has been hypothesized that highly reactive oxygen species (ROS), which are also known as free radicals, interfere with nitric oxide-mediated pathways or react with nitric oxide itself to contribute to symptoms of erectile dysfunction. This may be due to a lack of antioxidants in the body.*
Researchers have found that levels of glutathione (GSH) are significantly lower in men with ED than those with normal erectile function. Glutathione is the most important antioxidant and is an essential factor for the reaction that converts L-arginine to nitric oxide. Researchers have speculated that either men with ED have a defect in glutathione production or, more likely, do not have a sufficient intake of antioxidants in their diet.*
Increasing your antioxidant intake helps promote nitric oxide production and prevent nitric oxide breakdown. In fact, a number of studies have concluded that supplements containing folic acid, calcium, vitamin C and vitamin E all support the biochemical pathways leading to nitric oxide release and consequently can improve erectile function.*
Minerals like selenium, zinc and magnesium are also important for optimal sexual performance. Low serum zinc levels have been associated with sexual dysfunction, and a combination of zinc and sodium selenate may help improve the mechanisms in the erectile tissue of the penis. Magnesium, on the other hand, is important for the production of brain chemicals that regulate sex drive. Low magnesium levels have also been linked to other sexual issues like premature ejaculation; magnesium supplementation has been shown to help treat this condition.*
As you can see from the impressive list of specialized ingredients, they can help you to increase your sex drive and stamina, drastically increase your blood flow to assist getting rock hard and long lasting erections and increase the amount of semen your body produces for much more intense orgasms.*
Scientifically Proven Success with VitaliKor Daily Maintenance
Based on validated science, VitaliKor DM is the best nitric oxide enhancer on the market today. Plus some of the ingredients help with sex drive, stamina and pleasure. It only contains the finest, safest, natural ingredients and has been shown in studies conducted at Stanford University, New York Medical College and the University of Hawaii to promote firmer, longer lasting erections on demand; increase sexual stamina and sex drive; create more powerful, intense orgasms; and decrease recovery time. VitaliKor DM is proven to work so you never have to worry about your sexual performance again.*
Most of the big pharma solutions are PDE5 inhibitors. PDE5 down-regulates the biochemical cycle that causes an erection. The biochemical cycle that causes an erection is triggered through nitric oxide. In essence they slow the body's natural breakdown of the biochemicals responsible for a strong erection and work on two sides of the "erection-pathway" in a very complementary way.*
VitaliKor Daily Maintenance works in the same way by helping to produce more of the biochemicals needed for a strong erection and it's specifically formulated to upregulate the production of nitric oxide.*
Based on validated science, this formula is the best nitric oxide enhancer on the market today. It not only supplies the body with the best substrate for nitric oxide production, pure l-arginine, but it also upregulates the activity of nitric oxide synthase, the enzyme that drives the rate at which nitric oxide is produced from l-arginine.*
In simple terms… VitaliKor Daily Maintenance works on the same principles as the successful pharma drugs, but without the nasty side effects and without risking your health. And don't forget that it actually supports and builds your sexual health over time, thanks to the specially researched and chosen natural nutrients.*
Just take 3 – 6 capsules per day and watch your sexual health strengthen. That's it!*
VitaliKor Daily Maintenance Frequently Asked Questions
What Is It?
What is VitaliKor?
VitaliKor is the first daily nutritional supplement scientifically established and evaluated to support male Sexual Fitness and performance. VitaliKor for Male Sexual Fitness is a validated formula of L-arginine, ginseng, ginkgo, and 13 essential vitamins, antioxidants, and minerals which work together to support sexual performance and enjoyment. Plus, it provides the benefits of a daily multi-vitamin.*
Is VitaliKor like Viagra?
No, VitaliKor is a non-prescription daily nutritional supplement, not a drug. When taken daily, VitaliKor improves your overall level of Sexual Fitness. Depending on age and general conditions, it may take the average person 2 to 4 weeks on VitaliKor to reach a new level of Sexual Fitness, and to remain at that level as he continues to take VitaliKor. However, we do recommend staying with the program for a minimum of 4 weeks initially to see the full benefits. VitaliKor also provides 100% of the daily value of 13 essential vitamins and minerals.
Is VitaliKor a drug?
VitaliKor is not a drug. It is a daily nutritional supplement. While it is not intended for the treatment of any disease, many people choose to take dietary supplements to maximize wellness, and to promote general health.
Why are supplements preferable to drugs?
Nutritional supplements take a more gradual, gentle, and natural approach. The focus with supplements is on the optimization of health and wellness, rather than on the treatment of disease. Drugs are used for the treatment of disease, and tend to work by modifying or altering specific biological pathways, sometimes in a very powerful or unnatural manner.
What is erectile dysfunction?
Erectile dysfunction is the inability to get or maintain a satisfactory erection. Erectile dysfunction can be broken down into degrees of severity. Mild erectile dysfunction refers to men who may be able to get erections, but occasionally cannot maintain them long enough for satisfactory sexual performance. Moderate or more severe erectile dysfunction refers to men who have greater difficulty achieving an erection, or maintaining an erection. There are many possible causes for erectile dysfunction, including trauma, spinal cord injury, diabetes, poor circulation, and others. In addition, erectile dysfunction is often a function of age, physical fitness, stress and general health.
Is VitaliKor an aphrodisiac?
VitaliKor has been reported to increase libido and sexual stamina. However, it is not an aphrodisiac in the sense that it will not create uncontrollable sexual desire, which is how many people seem to define the word.*
Why is it important to have highly standardized extracts of botanical products?
In botanicals like ginseng and ginkgo, it is natural for the active ingredients found in them to vary among different plants and even within different parts of the same plant. It is impossible to control these natural variations. Therefore, it is important that standardization methods be used when these botanicals are processed for use as dietary supplements. These standardization methods ensure that the resulting botanical extract has consistent levels of the active ingredients for which the botanical has value as a dietary supplement.*
Why is VitaliKor better than supplementation with L-arginine, ginseng, or ginkgo alone?
VitaliKor is formulated to allow these ingredients to work in concert, resulting in a synergistic effect that exceeds the benefits possible with any single one of these ingredients, and at a lower dose of the individual ingredients. In addition, the Daily Wellness Company formulates VitaliKor using only highly standardized grades of ingredients.*
How is VitaliKor different from other natural products on the market that claim they can improve sexual function?
There is sound scientific basis for the mechanisms of action of VitaliKor as it relates to the Nitric Oxide pathway. All ingredients used in VitaliKor have a long history of human use and safety. There is scientific validation of the benefits of VitaliKor through physician directed studies published in peer reviewed medical journals and presented at international medical forums.*
There are numerous other natural products on the market for which the research data is absent, the "mystery" ingredients are undefined, the safety is unknown, and the mechanism of action not established. Some may even contain ingredients with potential for serious side effects, such as Yohimbe. We recommend that you look at the product's ingredient listing carefully. If the product does not clearly state the name and amount of the ingredients in a detailed Supplement Facts table, and if you cannot find any research substantiation regarding studies on the product that is referenced in scientific journals, be cautious.
The Daily Wellness Company will continue to support medical research and scientific studies to expand the scientific basis of VitaliKor and its credibility as a nutritional supplement for male sexual performance.*
What Will It Do?
How long before it starts to work and how long will it last?
As a dietary supplement, take 6 capsules total in the course of a day. While some may feel improvement in as little as 2 weeks, use for at least 4 weeks to begin experiencing enhanced sexual fitness. Continue to take 6 capsules daily to maintain maximum results.*
As a nutritional product, VitaliKor may take up to four weeks to reach its maximum benefits, depending on the age and conditions of the individual. However, once optimal levels are reached, VitaliKor provides a more natural response with spontanaeity and without the specific timing limitations of drug therapy.*
Why does it take 2-4 weeks for it to work?
VitaliKor is a nutritional supplement that provides the natural biochemical components important to support male Sexual Fitness. Because VitaliKor is not a drug, and takes a gradual, gentle, and natural approach, a certain amount of time is required before a steady state is reached. The length of time will vary depending on the age and general health of the individual.*
Will I get an erection that lasts for hours?
Erections that result from taking VitaliKor are natural and are enhanced only because the body's underlying natural circulation has been supported by dietary supplementation. You will not get unnaturally long-lasting erections, a condition that is medically described as priapism — an erection that lasts more than four hours and potentially dangerous. Priapism is a serious side effect occurring with certain prescription medications for erectile dysfunction.
What if I don't notice any effect?
VitaliKor will not work for everyone. In fact, no product can claim that it will work for everyone. If you've taken VitaliKor for 4 to 6 weeks at the recommended dose and have noticed no effect in either Sexual Fitness or physical stamina, then it probably doesn't work for you. If you have been sporadic in taking it, we recommend that you continue until you've taken it at the proper dosage daily for at least 4 consecutive weeks.
What other benefits does VitaliKor provide?
Along with supporting Sexual Fitness, VitaliKor may also benefit circulation as reflected by physical stamina and endurance. For example, VitaliKor users have reported improvements in biking and swimming times, golf scores, and overall energy levels. VitaliKor also provides the full daily value of 13 key vitamins and minerals. Supplementation with ginkgo, a key ingredient in VitaliKor, has been known to improve concentration and short-term memory. L-Arginine, a key amino acid found in VitaliKor, has been reported by the Mayo Clinic recently to play an important role in cardiovascular health.*
How Does It Work?
In general, how does it work?
VitaliKor works by providing the body with what it naturally needs to perform well sexually. VitaliKor is a select blend of natural ingredients that have been scientifically established to play a key role in Sexual Fitness.*
Can you prove that it works?
Many medical and scientific studies have shown that dietary supplementation with the ingredients found in VitaliKor can lead to improvements in cardiovascular function, circulation, and modest enhancement of male sexual function. Moreover, the combination of ingredients formulated as VitaliKor has been shown in research studies to dramatically enhance male sexual function.*
A physician-directed pilot study conducted specifically on VitaliKor shows that following a four week regimen of VitaliKor:*
89% of subjects experienced improvement in their ability to maintain an erection during intercourse, and 75% of subjects experienced an improvement in satisfaction with their overall sex life.
In addition, a placebo-controlled study evaluating the effects of VitaliKor versus Placebo for the enhancement of sexual performance has been completed by medical investigators.*
How Do I Take It?
When do I take it?
VitaliKor DM should be taken daily. If you decide to take VitaliKor DM, the recommended serving is 3-6 capsules per day, either all at once or 1-3 in the morning and 1- 3 in the evening. We recommend a course of 4 weeks minimum of daily VitaliKor for the optimal opportunity to see the full initial benefits. If you are having success with DM then continue taking as directed.
What if I stop taking it?
The benefits and improvements you've gained from VitaliKor will decline if you discontinue taking the recommended serving on a daily basis.
What if I miss a day or two?
Missing a day or two will not make a dramatic difference. If you've forgotten to take VitaliKor for a day or two, just start again at the regular daily dose. Remember, though, that you will not achieve optimal benefits if you take VitaliKor sporadically.
What if I don't take the full recommended serving?
People may differ in their response to any supplement. You may try a lower than recommended serving, but if results are less than optimal within 2-4 weeks, you should try the recommended dose and give that at least 4 weeks to demonstrate the benefits. Whatever dose you end up deciding on, it's important that you follow the directions and take a consistent dose of VitaliKor every day. Otherwise, you will be unlikely to achieve the optimal benefits of increased Sexual Fitness and improved stamina.
Should I take more than the recommended dose?
Taking more than the recommended daily serving of 6 capsules per day will not produce significant additional benefits and is not recommended. Although the scientific literature reports higher levels of ingredients found in VitaliKor for other clinical uses, taking large quantities of VitaliKor all at one time can result in upset stomach and potentially other medical problems. It is always prudent to consult a physician immediately if you experience adverse problems from taking too much of any nutritional supplement product.
Safety Issues
Is there anyone who should avoid taking VitaliKor?
As a general rule, anyone with any medical conditions including but not limited to anyone on prescription medications, or with a history of cancer, heart disease, stroke, migraine headaches, renal failure, liver failure, severe allergies, or other conditions, should consult their physician before starting on a new diet or nutritional supplement. In addition if you are pregnant or are nursing, you should avoid taking VitaliKor or any other supplements without the prior evaluation by a physician. Please refer to the next section on drug interactions. VitaliKor is not recommended for anyone under 18 years of age.
Do the ingredients in VitaliKor interact with any other foods/drugs?
The ingredients in VitaliKor have a long history of use in humans and are not known to interact in an adverse way at the recommended dose with any foods. As a general rule, however, those taking any prescription medications including but not limited to cardiovascular medications, chemotherapy, antibiotics, hormone therapy, anti-clotting medications, hypertension medications, migraine medications, and others should consult with their physician before taking VitaliKor (the ingredient quantities are listed on the label for you and your physician's reference) or any other nutritional supplements. Also, if you are currently taking any of these herbs — Korean ginseng, American ginseng, Ginkgo biloba, or the amino acid L-Arginine — please remember to stop taking these other herbs, as VitaliKor already contains these ingredients.
Can I take VitaliKor if I have diabetes?
Diabetics often have difficulty with erections, due to impaired blood flow from the negative effect of high blood sugar on blood vessels, or the negative effects on the nervous system. Both consumers who have erectile dysfunction that use VitaliKor, as well as patients involved in VitaliKor clinical studies, include those who are diabetics. We recommend that you work with your physician as you initiate VitaliKor or any other nutritional supplement program. There are reports in the medical literature referring to the role of L-arginine in stimulating insulin production which may be worthy of further evaluation.
Can I take VitaliKor concurrently with Viagra?
We recommend anyone with any medical conditions or who are on prescription medications to consult with their physician before starting on a new dietary supplement. Due to the numerous incidents of reported complications with the use of Viagra, we do not recommend the concurrent use of VitaliKor and Viagra at the present time. VitaliKor is intended for use as a daily nutritional supplement for sexual fitness, whereas Viagra is designed as a drug for the treatment of erectile dysfunction. Research is currently being conducted by medical investigators on the role of VitaliKor in patients who do not respond well to Viagra.
What is yohimbe, and is it found in VitaliKor?
VitaliKor does not contain yohimbe, which many physicians consider unsafe. Yohimbe is a bark extract that has been sold as a sexual performance enhancer. Yohimbe is not recommended by most physicians because it has been reported to dramatically raise blood pressure and worsen hypertension. We do not recommend the use of yohimbe or any supplements which contain yohimbe.