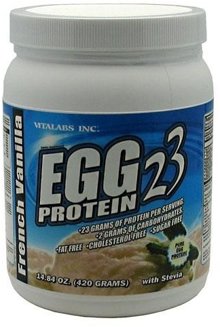 Vitalabs Ultra Egg Protein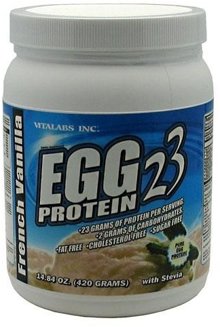 Vitalabs Ultra Egg Protein
Pure egg protein, 2 g of Carbohydrates, Fat-free, Cholesterol free, Sugar free. Protein is second only to water as the most plentiful substance in the body and provides nutritional components necessary for muscle tissue, internal organs, the formation of hormones and an endless number of other functions in the body. Protein consist of 22 building blocks called amino acids. All 22 are required by the body in a specific pattern. While the body can produce some of the amino acids, ten must be obtained from the diet. These ten Essential Amino Acids are found only in complete protein sources. Egg white protein is a complete source of protein and contains all of Essential and Branch Chain Amino Acids. Formulated to provide a high Biological Value, egg white protein is extremely efficient in the body. And, with 23 grams of protein per serving, it is an excellent way of increasing the daily intake of protein without excessive carbohydrates and fat.
Typical Amino Acid Profile Per Serving- Isoluecine 1453 Mg, Leucine 2283mg, Valine 1868mg, Arginine 1557mg, Lysine 1714mg, Cystine 726mg, Methionine 1011mg, Glutamine 3529mg, Phenylalanine 1583mg, Glycine 935mg, Threonine 1218mg, Aspartic Acid 2752mg, Tyrosine 1065mg, Proline 1038mg, Histidine 622mg, Serine 1842mg, Alanine 1661mg, Tryptophan 442mg.

Ingredient Details:
Egg White Protein, Natural and Artificial Flavors, Xanthan Gum, Stevia and Soy Lecithin.

Suggested Use:
Take one (1) to two (2) scoops daily to supplement the diet with additional protein. For best results, mix with a beverage high in carbohydrates and take between meals or before or after training. Do not use this product as a meal replacement without the supervision of a health care professional. Store in a cool, dry place. Use this product as a food supplement only. Do not use for weight reduction.

Cautions:
Allergen warning: egg and soy (lecithin). This product is manufactured and packaged in a facility which may also process milk, soy, wheat, egg, peanuts, tree nuts, fish and crustacean shellfish. Not recommended for individuals with allergies to egg and soy products and should not be used by pregnant or nursing mothers or children under 18 years of age without the advice of a physician. This product is intended to supplement the diet with additional protein and should not be used as a meal replacement. Not for use as part of a weight loss program without the direct supervision of a health care professional. Excessive protein intake may result in impaired kidney function. Keep out of the reach of children. Do not use if safety seal is damaged or missing.
Supplement Facts:
Serving Size 1 scoop
Servings Per Container 28
Amount Per Serving:
Calories100
Calories from Fat10
Total Fat0 g 0%
Saturated Fat0 g 0%
Cholesterol0 mg 0%
Sodium291 mg 12%
Potassium291 mg 8%
Total Carbohydrate2 g < 1%
Dietary Fiber0 g 0%
Sugars0 g
Protein23 g
Vitamin A< 1%
Vitamin C< 1%
Calcium4%
Iron< 1%
Note: Manufacturers continually change product specifications. While we try our best to keep product descriptions up to date, they do not necessarily reflect the latest information available from the manufacturer. We are not responsible for incorrect or outdated product descriptions and/or images.

These statements have not been evaluated by the Food and Drug Administration. This product is not intended to diagnose, treat, cure, or prevent any disease.