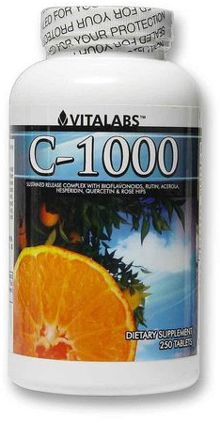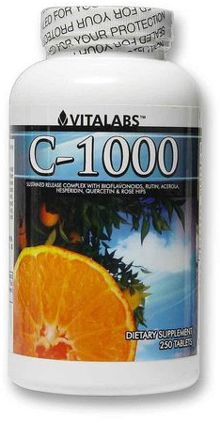 VITAL FOR NORMAL BODY FUNCTIONS
ESSENTIAL VITAMIN TO FIGHT DISEASE
NATURAL ANTIOXIDANTS FOR PROTECTION
ADDED BIOFLAVONOIDS & QUERCETIN
RAPID-DISSOLVING COATED TABLETS
ULTRA CONVENIENT, EASY TO SWALLOW FORMULA
Vitamin C, also known as ascorbic acid, is a water-soluble vitamin that is vital for the normal functioning of the body. The body does not produce vitamin C on its own, nor does it store it will. That's why it's crucial to consume an adequate amount of vitamin C on a daily basis. Vitalabs C-1000 provides ultra convenient fast dissolve capsules packed with 1000mg of vitamin C supported by rose hips, quercetin, rutin, and bioflavonoids to maximize immunity and antioxidant protection.
Vitamin C increases ascorbate levels in lymphocytes, which enhances immunity and your body's fortification against infection and disease (including cold and flu).[1] As a powerful antioxidant, vitamin C neutralizes free radicals to prevent damage to DNA that increases risk of chronic disease, such as heart disease and cancer.[2] Vitamin C even supports strengthened collagen, which improves recovery from exercise as well as skin, joint, and tendon health.[3]
The citrus bioflavonoids in Vitalabs C-1000 work synergistically with vitamin C to support healthy heart function and disease protection.[4] Quercetin, rutin, and rose hips (a natural source of vitamin C) come together in Vitalabs C-1000 to safeguard blood vessels, build an impenetrable immunity[5], and annihilate free radicals.[6]
Vitalabs C-1000 capsules are easy to swallow and make it extremely convenient to enjoy all the benefits of vitamin C plus added antioxidants on a daily basis or as needed.
References [+]
References [-]
[1] Kennes B, et al. Effect of Vitamin C Supplements on Cell-Mediated Immunity in Old People. Gerontology. 29. (1983): 305-310.
[2] Padayatty SJ, et al. Vitamin C as an Antioxidant: Evaluation of Its Role in Disease Prevention. Journal of the American College of Nutrition. 22:1. (2003): 18-35.
[3] Thompson D, et al. Prolonged Vitamin C Supplementation and Recovery from Demanding Exercise. International Journal of Sports Nutrition and Exercise Metabolism. 11:4. (2001): 466-481.
[4] Tripoli E, et al. Citrus Flavonoids: Molecular Structure, Biological Activity, and Nutritional Properties. Food Chemistry. 104:2. (2007): 466-479.
[5] Nieman DC, et al. Effects of Quercetin and EGCG on Mitochondrial Biogenesis and Immunity. (2009): 1467-1475.
[6] Gao X, et al. Evaluation of Antioxidant Activities of Rosehip Ethanol Extracts in Different Test Systems. Journal of the Science of Food and Agricultural. 80:14. (2000): 2021-2027.
* RESULTS MAY VARY