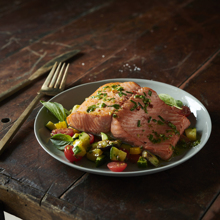 Vital Choice Wild Reefnet Sockeye Salmon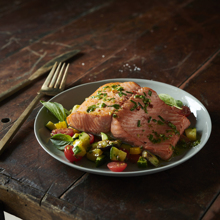 Vital Choice Wild Reefnet Sockeye Salmon
Features
Skin-on / boneless
Sustainably hand-harvested
Rated "Green" by Monterey Bay Aquarium's Seafood Watch
Kosher Certified (EarthKosher)
Product of USA (WA State)*
*Note: Unlike all other Vital Choice sockeye, which is harvested in Alaskan waters,
our reefnet sockeye is caught in waters off the northern coast of Washington State, on its way to Canada's Fraser River.
This year, the sockeye returning to British Columbia's Fraser River rank as much richer than usual for any sockeye, making it a rare, exceptionally luscious treat!
The length of a salmon's birth river directly governs the amount of fat it must accumulate before beginning its journey upstream to spawn and die.
Canada's Fraser River flows for 854 miles (1,375 km), past the city of Vancouver into the Strait of Georgia, making it one of the longest rivers in Canada, and the longest in British Columbia.
The river's great length means that Fraser River sockeye are fattier than most — and this year's harvest boasted exceptionally high levels of fat, making these fish outrageously rich.
Better yet, our Fraser River Sockeye is harvested by hand, using the exceptionally eco-friendly method called reefnet fishing, which also protects the salmon's fresh-caught quality.
We've managed to secure a limited amount of luscious, reefnet-caught 2018 Fraser River sockeye — don't wait to snare your fair share of this rare, extra-rich treat!
About reefnet fishing
Reefnetting is an ancient, environmentally superior fishing method that produces the highest quality fish possible. It was developed by Northwest natives, and less than a dozen reefnet salmon operations still exist.
Our friends at the Lummi Island Wild co-op run several of the remaining reefnet fishing rigs, just a 10-minute ferry journey from our home base in Bellingham, Washington.
Reefnetters take advantage of flood-tide currents that direct migrating salmon over underwater reefs and into shallow waters.
The gear consists of two small, narrow, stationary barges with a net suspended underwater between them. The crews wait for the flood tide to bring the harvest, and as salmon rise to clear the reef, spotters in the rigs' trademark towers call out for the net to be raised.
The salmon are funneled by hand into a live well where each fish can be inspected and other seafood species can be released back to the sea, unharmed. This interlude also relaxes the fish and allows time for the lactic acid in their muscles to dissipate, ensuring optimal flavor.
At the end of the day, the salmon are bled and placed in insulated totes with slushed ice. They are ferried by the fishing tender to the processing plant at the harbor where they're cleaned, processed, and flash-frozen to preserve their fresh flavor and texture.