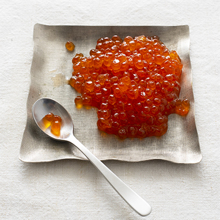 Vital Choice Wild Pink Salmon Ikura (Roe)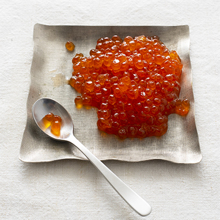 Vital Choice Wild Pink Salmon Ikura (Roe)
Features
Resealable 17oz trays
Richest food source of omega-3s
Richest food source of phospholipid-form omega-3s
Sustainably harvested
Product of USA (Alaska)
Ships frozen
Comparison of Salmon Roe Varieties
Wild salmon roe is the richest food source of phospholipid-form omega-3s, with keta salmon roe containing the most omega-3s per serving, followed by sockeye roe and pink roe.
Keta Salmon (Oncorhynchus keta): Pale red with strong orange overtones, keta salmon roe is the most popular type of salmon roe, regarded for its flavor, long shelf life, and signature "pop" in the mouth. The highest-grade keta roe is at least 5mm in diameter.
Pink Salmon (Oncorhynchus gorbuscha): Orange with a subtle rose hue, pink salmon roe is valued for its sweet, mild taste, and long shelf life. The highest-grade pink salmon roe is at least 3.5mm in diameter.
Sockeye Salmon (Oncorhynchus nerka): Bright red and significantly smaller than that of the other salmon species, sockeye salmon roe can have a slightly bitter natural finish and has a shorter shelf life due to the natural fats found in the yolk of the eggs. The highest-grade sockeye salmon roe starts at 2.5mm in diameter.
Cured salmon roe is known as "ikura" and ours is produced by trained, or under supervision of, Japanese experts, using a custom 2.5% brine for milder flavor and lower salt content.
Ikura: A superior source of highly absorbed omega-3s
Native Alaskans report that salmon roe is an excellent first semi-solid food for infants, introduced at about eight months. Click to see kids sampling and savoring our ikura at the 2011 Wise Traditions conference.
Not only does it provide ample omega-3s for the rapidly growing brain and neural system, salmon roe also helps establish a life-long taste for seafood and its many potential health benefits.
According to biomedical scientist Rhonda Patrick Ph.D., salmon roe is extraordinarily rich in phospholipid-form omega-3s (EPA and DHA) which are exceptionally well absorbed by the fetal brain.
She also notes that 40% to 70% of total omega-3s in salmon roe occur in the phospholipid-form, versus only 1% of total omega-3s in salmon flesh.
And while krill oil is unusually rich in phospholipid-form omega-3s — compared with other fish and marine oils — salmon roe is an even richer source.
Lipid scientists from Canada's University of Guelph found that about 60% of the omega-3s in salmon roe occur in the phospholipid-form, versus 49% in krill oil supplements. They also reported that 54% of EPA and 81% of DHA in keta salmon caviar occur in the phospholipid form, versus 60% of total EPA and 61% of total DHA in krill oil supplements (Lacombe RJS et al. 2014).
As the Canadian team noted, "Results from some clinical trials have reported an enhanced bioavailability of krill oil over that of conventional fish oils, which has been speculated to be an effect of krill's unique enrichment of EPA and DHA in the phospholipid form ... [and salmon] caviar represents a rich source of both omega-3 fatty acids and dietary phospholipids."
On a practical basis, the Canadian study found that the amounts of phospholipid-form EPA and DHA in one serving of salmon caviar were almost eight times greater than the amount in one capsule of krill oil: an average of 1097mg vs. an average of 138mg.
What People Say
"I absolutely adore your Ikura! ... Time to go fetch more from the freezer..." – Andrea Frankel
Phospholipids vs. other omega-3 forms: Sources
Burri L et al. Marine omega-3 phospholipids: metabolism and biological activities. Int J Mol Sci. 2012 Nov 21;13(11):15401-19. doi: 10.3390/ijms131115401.
Lacombe RJS, Tran S, Piekarski J, Holub BJ. The direct comparison of the omega-3 phospholipid content in krill oil supplements and salmon caviar. University of Guelph. 2014.
Murru E, Banni S, Carta G. Nutritional properties of dietary omega-3-enriched phospholipids. Biomed Res Int. 2013;2013:965417. doi: 10.1155/2013/965417. Epub 2013 Jul 31. Review.
Ramprasath VR, Eyal I, Zchut S, Jones PJ. Enhanced increase of omega-3 index in
healthy individuals with response to 4-week n-3 fatty acid supplementation from krill oil versus fish oil. Lipids Health Dis. 2013 Dec 5;12:178. doi: 10.1186/1476-511X-12-178.
Rossmeisl M et al. Metabolic effects of n-3 PUFA as phospholipids are superior to triglycerides in mice fed a high-fat diet: possible role of endocannabinoids. PLoS One. 2012;7(6):e38834. doi: 10.1371/journal.pone.0038834. Epub 2012 Jun 11.
Schuchardt JP et al. Incorporation of EPA and DHA into plasma phospholipids in response to different omega-3 fatty acid formulations--a comparative bioavailability study of fish oil vs. krill oil. Lipids Health Dis. 2011 Aug 22;10:145. doi: 10.1186/1476-511X-10-145.