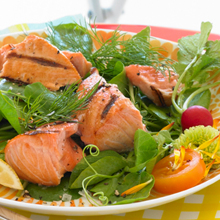 Vital Choice Wild King Salmon Pieces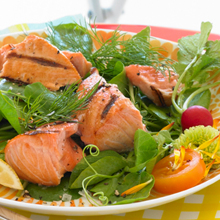 Vital Choice Wild King Salmon Pieces
Features
Random-size pieces
Skinless & boneless
From bite-size up to 3 ounces
Red, ivory, and/or marbled pieces
Sustainably harvested
Caught off Alaska or Canada (British Columbia)
Wild Pacific king (chinook) salmon is even higher in omega-3-rich oil than other salmon, making it the very richest available.
Line-caught on small boats, our king salmon is iced immediately and flash-frozen to preserve its fresh-caught quality.
Our random-size offering features skinless-boneless pieces, ranging from bite-size up to 3 oz.
Your package may include pieces of varying colors (red, ivory, and/or marbled), which are similar in flavor, texture, and omega-3 content.
King salmon nutrition
In addition to ample protein, King salmon provide three beneficial natural food factors in abundance, the amounts of which can vary annually and by harvest location.
These are the average amounts in one 6 oz portion:
Omega-3s – About 3,319mg of omega-3 EPA+DHA, or 6 to 13 times more than the minimum daily EPA+DHA intake recommended by most world health authorities (250-500mg).
Vitamin D3 – About 400 IU in the optimal D3 form, which is more than most other fish, and more than any fortified food, approaching the child-to-adult US RDA of 600 IU.
Astaxanthin – About 1.49 mg (red king). This red-orange pigment is a carotenoid-class nutrient with unique health benefits. Astaxanthin content varies by color: Red King portions have the most while Ivory King portions have the least.
Learn this food's omega 3/6 balance, and why it matters.