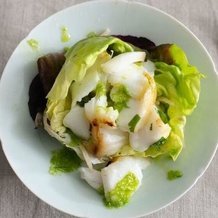 Vital Choice Wild-Caught Chilean Sea Bass - Pieces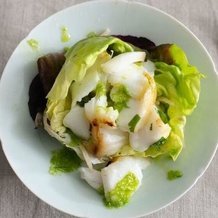 Vital Choice Wild-Caught Chilean Sea Bass - Pieces
Features
Boneless, skinless
Rich in omega-3s
Long-line harvested
Individually vacuum-packed
We select only smaller fish for optimal purity
Certified sustainable by the Marine Stewardship Council (MSC)
Product of the United Kingdom*
*This fish is caught in international waters, so the country of origin is the nation where the harvesting vessel is registered, which in this case is the UK.
Coveted by chefs and seafood connoisseurs, Chilean Sea Bass boasts a mild but rich, buttery flavor, firm but tender texture, and large flakes. Its high fat content — which includes omega-3s in unusual abundance — gives this luxuriant fish its luscious flavor. Chilean Sea Bass is well-suited to grilling, poaching, sautéing, roasting, broiling, or smoke-curing.
Chilean Sea Bass — also known as Antarctic toothfish (Dissostichus mawsoni) — is a deep-sea species that's found near the South Pole, alongside the Antarctic icepack. Note: The folk term "bass" has no scientific meaning and is applied to various unrelated species of ocean fish.
To survive in subzero waters, Antarctic toothfish possess high levels of flexible omega-3 fatty acid s (DHA and EPA) in their cell membranes, and special proteins that block formation of ice crystals. The EPA-FDA seafood consumption guidelines for young children and pregnant/nursing women categorizes Chilean Sea Bass as a "Good Choice", and to ensure optimal purity, we purchase and offer only smaller fish.
Sustainably sourced
Our Chilean Seabass comes from an MSC-certified sustainable fishery located in the deep, icy waters of the Antarctic's Ross Sea. This fishery is managed under the rules of Convention for the Conservation of Antarctic Marine Living Resources (CCAMLR).
Illegal, unregulated and unreported (IUU) fishing for Chilean Sea Bass was once a very serious problem. But IUU fishing has been virtually eliminated, thanks to a combination of increased surveillance, high-profile apprehensions and prosecutions, and strict port and market regulations. The vessel that harvests our Chilean Sea Bass always carries an independent observer, to ensure adherence to all protocols and conservation measures. In addition, a Catch Documentation Scheme requires each fish to be tagged with the name of the fishing vessel, the fishing line on which he was caught, as well as the day and location when it was caught.