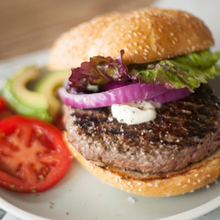 Vital Choice Wagyu Beef - Organic Grass-Fed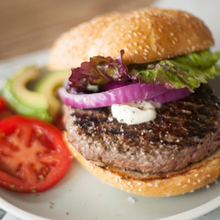 Vital Choice Wagyu Beef - Organic Grass-Fed
Please Note: To ensure delivered quality, one pack of this product cannot be shipped alone. Either increase the quantity of this product when you reach your cart, or add more frozen items to your cart, until the total of frozen goods equals $65 or more.
Features
Certified organic
100% grass-fed*
No animal byproducts
No antibiotics or hormones
Certified humane treatment
Individually frozen and vacuum-packed
Product of Washington State, USA
*No grain diet: cattle graze on pasture rich in grasses, legumes, and herbs.
Every cut of our organic grass-fed beef offers unsurpassed flavor and nutrition.
People say our burger patties are so delicious they rival their favorite steak! Each patty in this frozen 3-pack weighs in at more than 1/3 lb (6 oz).
About our organic grass-fed beef
We source our beef from Skagit River Ranch, located just 30 miles from Vital Choice in this famously fertile river valley.
As Chef Maria Hines, 2000 James Beard Award winner of The Best Chef Northwest raved, "The buttery, meaty texture will blow your mind!"
Our ranchers – the husband/wife team of George and Eiko Vojkovich – humanely raise a small herd of about 500 cattle on their certified-organic, century-old ranch.
The cattle spend their entire lives on pure pastureland, benefiting from rotational grazing on fresh, nutritious grasses, legumes, herbs. And to help keep them optimally healthy, they also receive a mineral-rich mix of sea salt and kelp.
Each animal is humanely harvested on the farm in a USDA-certified mobile unit … the first such facility in the U.S. operated by farmers.
To further enhance its tenderness and flavor, the meat is dry-aged for minimum of two weeks before being cut, vacuum-sealed, and quick-frozen to preserve its incredible quality.
A breed made in beef heaven
Our premium quality beef is a unique cross between two distinct breeds:
Angus – An heirloom, grass-adapted strain of the Scottish breed
American Wagyu – certified 100% purebred Wagyu from Japanese stock
Accordingly, Vital Choice Organic, Grass-Fed Beef combines the tenderness of Wagyu with the rich flavor of Angus.
George and Eiko breed their American Wagyu bulls with Angus cows from an heirloom strain that retains the breed's original adaptation to fattening on pasture.
That advantage helps explain why their Angus triumphed "hands down" in EatWild.com's grass-fed-beef taste test, while "… judges across the board described it as tender and succulent with excellent flavor."
Why grass-fed beef?
Beef is an inherently healthful food, rich in protein, iron, and minerals.
And our exclusively grass-fed, Organic Beef offers a healthier – and far more eco-friendly – alternative to conventional, grain-fed beef.
Compared with grain-fed beef, our pasture-fed beef is richer in at least three key nutrients:
Omega-3 fatty acids. It provides almost six times more than grain-fed beef, and offers an optimal ratio of omega-6 to omega-3 fatty acids. See "Basic facts about omega-3s and beef", below.
Beta-carotene (pro-vitamin A) – an antioxidant that gives its fat a yellow-orange cast.
Conjugated linoleic acid (CLA) – an unsaturated fat that appears to promote healthy weight and metabolism.
You may want to read author Michael Pollan on the subject of grass-fed vs. conventional, grain-fed beef … see "Modern Meat" and "Power Steer".
What about the saturated fat in beef?
The evidence long cited to link certain saturated animal fats with increased risk of heart disease was surprisingly weak ... and in recent years it's been repeatedly, convincingly refuted.
This cogent quote comes from a 2012 interview with Dariush Mozaffarian, M.D., of Harvard Medical School and Tufts University, and co-author of more than 100 scientific papers:
"Three groups of researchers have recently weighed data from all available large long-term studies that have tracked saturated-fat intake and heart attacks or strokes. All three found no association between saturated fat and heart attacks or strokes. People who consumed the highest levels of saturated fat had about the same rates of heart disease as people who consumed the least."
Learn more from relevant articles in our newsletter archive: "What is 'Heart Disease,' Exactly?", "Cholesterol Fiasco Undermines Accepted Theory" "Egg Study Puts Cracks in Anti-Cholesterol Claims", and "Beef Scare Overblown?".
Basic facts about omega-3s and beef
Consumers are often misinformed or misled about this topic. These are the facts:
Grass-based cattle diets yield significantly higher levels of omega-3s in beef, while omega-6 levels in grass-fed beef roughly equal those in grain-fed beef.
This results in a lower, healthier omega-6-to-omega-3 ratio in grass-fed beef.
The average omega-6/omega-3 ratio in grass fed beef is 1.5 to 1, but rises as high as 7.65 to 1 in grain-fed beef (Ponnampalam EN et al. 2006; Leheska JM et al. 2008; Daley CA et al. 2010).
Most of the very modest amounts of omega-3s in grass-fed beef consist of the short-chain omega-3 known as ALA, which the body uses to make the long-chain omega-3s (DHA and EPA) humans actually require to thrive and survive.
The human body converts one to 10 percent of omega-3 ALA into the essential long-chain omega-3s (DHA and EPA) found in human cells and seafood. It's far more effective to consume DHA and EPA directly, from seafood and/or supplements.
Grass-fed beef provides far less omega-3 EPA and DHA than an equivalent amount of seafood … especially fatty fish.
Fish and shellfish acquire large amounts of DHA from their diets of aquatic plants and animals, while livestock get small amounts of ALA from grasses and other pasture plants.
For more information on omega-3s, see our Omega-3 Facts & Sources page.