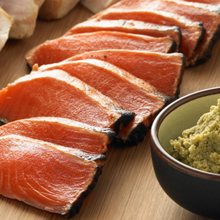 Vital Choice Salmon Tataki Style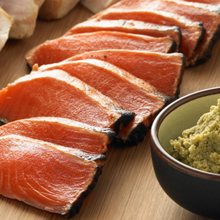 Vital Choice Salmon Tataki Style
Features
6-7 portions per order
Minimum total wt. 36 oz (2.25 lbs)
Lightly seared, sashimi-style portions
Top-grade wild Alaskan Sockeye salmon
Sustainably certified Salmon fishery
Product of Canada
Slice the still partially frozen fish for lovely presentation cuts. Tataki thaws quickly, perfect for sharing at home or entertaining guests.
Why is Vital Choice wild Alaskan Sockeye so clearly superior?
The relationships we fostered during decades of fishing Alaskan waters give us rare access to the very finest Sockeye, from smaller harvest regions ("fisheries") that host fewer boats and faster processing.
This means that Vital Choice Sockeye is cleaned and flash-frozen very quickly after harvest, preserving its fresh-caught quality perfectly. In addition, fat levels in Sockeye vary by region, and on average ours features substantially more flavor and omega-3 nutrition than standard Sockeye.
These advantages explain why salmon-savvy shoppers consider Vital Choice wild Alaskan Sockeye such a rare treat.
Sockeye vs. King and Silver salmon
Wild Alaskan Sockeye is richer than our Silver (Coho) salmon and a bit leaner than our King (Chinook) salmon, with a firmer texture than either fish.
Sockeye salmon nutrition
In addition to ample protein, Alaskan Sockeye salmon offers abundant omega-3s, as well as unrivaled levels of vitamin D and astaxanthin (as-tuh-zan-thin), a carotenoid-class red-orange pigment with rare antioxidant power.
On average, Sockeye salmon provides these amounts of nutrients per 6 oz portion:
Omega-3s – About 1,994mg of omega-3 EPA+DHA, or 4 to 8 times more than the minimum daily EPA+DHA intake recommended by most world health authorities (250-500mg)).
Vitamin D3 – About 1,170 IU in the optimal D3 form, which is more than most other fish, and more than any fortified food, approaching the child-to-adult US RDA of 600 IU.
Astaxanthin – About 6.78 mg*. This red-orange pigment is a carotenoid-class nutrient with unique health benefits.
*Turujman SA et al. Rapid liquid chromatographic method to distinguish wild salmon from aquacultured salmon fed synthetic astaxanthin. J AOAC Int. 1997 May-Jun;80(3):622-32.
Learn this food's omega 3/6 balance, and why it matters.