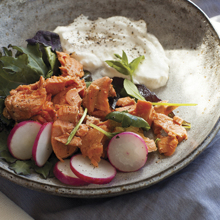 Vital Choice Salmon Bellies Redtresca - Cans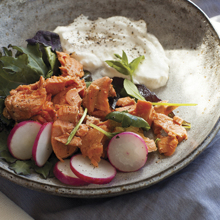 Vital Choice Salmon Bellies Redtresca - Cans
Features
Skinless-boneless
Succulent Alaskan sockeye belly meat
Certified Kosher (OU)
Sustainably harvested
One of Randy's Picks
Product of USA (Alaska)
Discover the "caviar" of canned salmon ... a rich, rapturous Vital Choice innovation!
This unique offering is inspired by traditional Italian-style canned ventresca tuna ... succulent meat cut from the extra fatty, omega-3-rich belly.
Echoing that model, Redtresca is astonishingly great canned salmon, distinguished by the outrageously tender, silky lusciousness of super-fatty sockeye belly meat.
Sockeye salmon nutrition
In addition to ample protein, Alaskan sockeye salmon offers abundant omega-3s, as well as unrivaled levels of vitamin D and the uniquely beneficial, orange-hued carotenoid-type antioxidant called astaxanthin (as-tuh-zan-thin).
Learn this food's omega 3/6 balance, and why it matters.