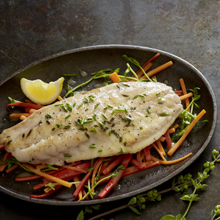 Vital Choice Rockfish Wild Pacific - Skinless/Boneless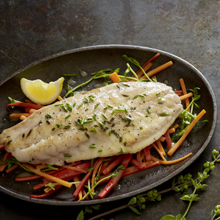 Vital Choice Rockfish Wild Pacific - Skinless/Boneless
Features:
Portions average 5 oz (4–6 oz)
Individually vacuum-packed
Rich in omega-3 fatty acids
Sustainably wild-harvested
Rated Green/Best Choice by Monterey Bay Aquarium's Seafood Watch
Processed in the Pacific Northwest
Product of USA
Rockfish is a local favorite in the Pacific Northwest, prized for its rich flavor and firm, flaky texture.
It's delicious when grilled, baked, broiled, or sautéed, tastes great with most any seasoning or sauce, and makes terrific tacos.
And rockfish is a very good source of omega-3 fatty acids, providing about 420mg per 5-oz portion, which meets the 250-500mg of daily intake advised by health authorities worldwide.
About Wild Pacific Rockfish
The name "Rockfish" covers dozens of closely related species that prefer deep waters and rocky environments.
Vital Choice rockfish can be either of two very similar species — yellowtail (Sebastes flavidus) or widow (Sebastes entomelas) — that commonly swim together.
The fisheries that supply our rockfish are certified sustainable by MSC, and both species are rated "Best Choice" by Monterey Bay Aquarium's Seafood Watch program, which monitors the sustainability of commercial fisheries.
Rockfish can live 16 to 20 years or more and reproduce at advanced ages, characteristics that cause several species to be over-harvested, and placed off-limits by Federal authorities in the early 2000's.
Fortunately, fishermen, regulators, and conservationists cooperated on a successful, 10-year-plus plan to restore most rockfish (including yellowtail and widow) stocks enough to allow carefully managed, sustainable harvesting. Today, the recovery of rockfish serves as a model of fishery management. In addition, widow and yellowtail rockfish are harvested in mid-water, avoiding the environmental damage posed by bottom-trawling.
Sources
Stephens A, Taylor IG (2018). Status of Yellowtail Rockfish (Sebastes flavidus) Along the U.S. Pacific Coast in 2017. Fark Portland, OR: Pacific Fishery Management Council