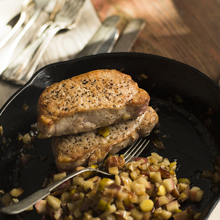 Vital Choice Pork Chops - Pastured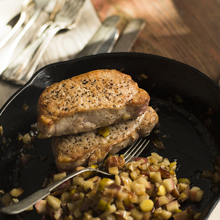 Vital Choice Pork Chops - Pastured
Features
Boneless
No antibiotics
Pasture-raised
Healthier fat profile*
Two chops per pack
No growth-promoters
No confinement crates
Raised on family farms
Product of USA (Missouri)
*See "Superior nutrition profile", below.
Discover truly superior pork chops, from heritage-breed pigs raised naturally and humanely, on nutritionally rich, chemical-free pasture.
In sad contrast, most pigs live confined on factory farms, where they're fed all-grain diets, antibiotics, and growth-promoters (beta agonists) proven to harm many animals.
Read on to learn more about our pork's exceptional family-farm providers, humane treatment, and superior nutrition profile, featuring a far healthier ratio of omega-3 to omega-6 fats.
Leaders in humane pig husbandry
The pure, delicious pork we're proud to offer is the savory fruit of a vision.
That holistic vision is what drives ninth-generation farmer John Arbuckle and his wife Holly, the co-founders of Missouri's Singing Prairie Farms.
John — a self-described "pork nerd" — has become a leader in the campaign to simultaneously raise the quality of pigs' lives and the nutritional and health quality of pork.
The Arbuckles practice rotational foraging — a traditional way that works several wonders:
Enhances pork's nutritional quality
Enriches soil fertility and resiliency
Protects water purity in local streams
Preserves and expands wildlife habitat
Holly and John raise their pigs humanely, without drugs, and let them forage freely on pure, rich, pasture.
They farm naturally without agri-chemicals, sow their fields with diverse, pig-friendly plants, and practice rotational grazing to enrich the soil.
The pigs eat copious amounts of grassy pasture, and to meet their full nutritional needs, they're also given food scraps, fruits and vegetables, waste dairy prodicts, and eggs. As needed seasonally, the animals' pasture diet is supplemented with non-GMO whole grain.
The Arbuckles strive to continually raise the proportion of forage in their animals' diet and minimize the amount of grain, which is already comparatively small.
As you'd expect, the Arbuckles shun pesticides, synthetic fertilizers, antibiotic feed additives, GMOs, and the growth-promoting drugs (beta agonists) commonly used on factory pig farms.
As a result, pork products from Singing Prairie Farms are nutritionally superior and free of drug residues — and the animals live healthier, happier lives!
Superior nutrition profile
Compared with their grain-fed counterparts, pasture-raised pigs provide more omega-3 fatty acids, vitamin E, beta-carotene, vitamin C, and vitamin D.
Pasture-fed pigs also deliver fewer omega-6 fatty acids, which predominate in the standard American diet to highly unhealthful effect.
Lab tests commissioned in 2017 by Singing Prairie Farms confirmed that the general picture of pasture-raised meat — higher in omega-3s and lower in omega-6s — applies to their pork.
They sent samples of meat from three test groups. The pigs in each group were raised on pasture, but were allowed differing amounts of supplemental grain:
Unlimited grain

: This group were allowed all the grain they could eat — which is not normal Singing Prairie practice.

Limited-grain

: This group got one-half the usual grain allotment for Singing Prairie pigs, and instead were fed mixtures of pasture plants.

Zero grain

: These pigs got no supplemental grain and fed exclusively on pasture and cover crops, plus some organic milk powder and sea salt.
Meat harvested from each group was lab-tested for omega-3 and omega-6 fats.
Singing Prairie also tested standard supermarket pork chops — almost certainly produced on a no-pasture, grain-heavy diet — to provide a comparison.
These were the resulting ratios of omega-6 to omega-3 fats:
No-grain group — 5:1
Limited-grain group — 10:1
Unlimited-grain group — 14:1
Standard grain-fed pork — 30:1
Versus standard, grain-fed pork, the omega-6:3 fat ratios produced by every variation in the feed regimen of pasture-raised Singing Prairie pork look a lot lower/healthier:
No-grain group — Vastly lower/healthier 6:3 ratio
Limited-grain group — Dramatically lower/healthier 6:3 ratio
Unlimited-grain group — Substantially lower/healthier 6:3 ratio
*One per order, while supplies last. Cannot be combined with other offers. Offer .