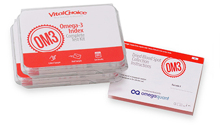 Vital Choice Omega-3 Index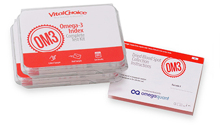 Vital Choice Omega-3 Index
Features
Easy kit collects one blood spot*
Receive your results in 2–4 weeks
Measures 24 individual fatty acid levels
All samples are processed in a central CLIA-certified laboratory
The same sample processing methodology used in over 200 research studies
Price includes pre-paid postage and lab fee
*Persons with bleeding disorders or taking blood thinners should consult with their physicians prior to using this kit.
About Our Omega-3 Index Home Test
Our Omega-3 Index Home Test measures the amount of omega-3 fatty acids EPA and DHA in red blood cells. Simply collect a blood sample, mail it to our trusted lab affiliate, and receive your confidential report in two to four weeks. As a part of an overall healthy lifestyle, an Omega-3 Index in the 8 to 12 percent range may help to maintain heart, brain, eye, and joint health. Once you know your Omega-3 Index, you can personalize your diet to modify your Omega-3 Index in as little as three to four months.
Your Omega Balance Matters!
The acronym "HUFA" stands for Highly Unsaturated Fatty Acids, which are essential fats that our bodies convert into hormone-like agents that influence inflammation and much more, and that have receptors on nearly every cell in the body.
A substantial body of scientific evidence indicates that maintaining a healthful dietary balance of omega-3 and omega-6 HUFA can help you reduce your risk of heart disease and other common, chronic, physical, and mental health problems.
Humans evolved on hunter-gatherer diets that contained a roughly equal balance of omega-3s and omega-6s. But most modern diets contain much higher proportions of omega-6s from common vegetable oils such as soy, corn and cottonseed, and the processed foods made with them. These seed-based oils are found abundantly in fried foods such as fast-food French fries and chicken, as well as in fried, prepared snacks such as potato and tortilla chips.
Optimizing Your Fatty Acid Profile
MEASURE: You won't know if your balance of fats is optimal unless they're measured.
MODIFY: Once you have a complete picture of your body's fats, you can optimize them with simple dietary changes. Fatty acid levels start changing as soon as you change your diet and lifestyle and stabilize in three to four months. Your report will contain personalized recommendations based on your test results, as well as reference ranges showing you how you compare to your peers.
MONITOR: Track how your dietary changes affect your blood levels by testing regularly.
Results Included in Your Report
Omega-3 index
Ratio of omega-3s to omega-6 fatty acids
Ratio of AA to EPA fatty acids
Trans fat index
Individual fatty acid levels
Sample Chart
Please Note
The FDA has not evaluated these statements. This product is not meant to treat, diagnose, or cure disease and is not meant as medical advice or as a medical test. It is solely for informational purposes only. Consult a healthcare provider for interpretation. This product has not been cleared or approved by the US Food and Drug Administration (FDA). Results of this test are for investigational purposes only. Reported fatty acid data may be subject to trace contamination and error as other fatty acids may not separate from reported fatty acids during instrument analysis or due to inherent method standard error.
The Omega-3 Index Home Test provides you with information to help you make dietary choices that may lower your risk of disease. Please consult your doctor before making any dietary changes.
We cannot process Omega-3 Index Home Tests for New York residents because our lab affiliate does not yet hold the required license. If you have questions or need assistance, please call Customer Care at 866.482.5887 or customercare@vitalchoice.com.