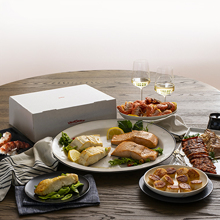 Vital Choice Indulge in the Wild - Our ultimate sampler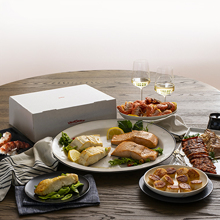 Vital Choice Indulge in the Wild - Our ultimate sampler
This sampler contains six luxurious pounds of our finest sustainably harvested wild fish and shellfish varieties.
Sampler includes:
Wild Maine Lobster Tails – 15 oz package, whole shucked tails
Wild Atlantic Sea Scallops – 1 lb bag, individually quick-frozen
Wild Pacific Jumbo Spot Prawns – 16 oz tray, shell-on
Wild Albacore Tuna Tataki – 6 oz package, skinless, boneless
Wild Pacific Sockeye Salmon Tataki – 6 oz package, skinless, boneless
Wild Chilean Sea Bass – two 6 oz portions, skinless, boneless
Wild Pacific King Salmon – two 6 oz portions, skin-on, boneless
Wild Alaskan Halibut – two 6 oz portions, skinless, boneless
Individual Product Details
For full details, including ingredients and nutritional information, click on the individual product below:
Wild Main Lobster Tails
Hand-harvested from clean, ice-cold waters off the rocky coast of Maine, our premium lobster tails offer unsurpassed flavor, texture, and convenience. Each tray provides five whole tails, ready to thaw, cook, and enjoy.
Wild Atlantic Sea Scallops
Sustainably sourced from pristine northern waters, our deliciously plump sea scallops are hand-shucked and individually quick-frozen with nothing added. No added phosphates, water, additives, or preservatives.
Wild Pacific Spot Prawns
Sustainably caught from the cold, clean waters off southeast Alaska, our wild Pacific spot prawns are water-glazed and flash-frozen to lock in their fresh-caught quality. Like all Alaskan seafood, spot prawns are responsibly managed to ensure continued abundance. And because they are caught with small individual traps instead of large trawls and dredges, there are very low rates of by-catch.
Wild Albacore Tuna Tataki & Wild Pacific Sockeye Salmon Tataki
Ready to thaw and serve at a moment's notice, our flame-seared tataki makes a delicious appetizer when paired with a shoyu and ponzu dipping sauce. Or try it in a sashimi salad with poke-style toppings and a spicy sesame dressing. Subtle notes of woodsmoke highlight the ocean-fresh flavor of wild albacore tuna and wild sockeye salmon.
Wild Chilean Sea Bass
Coveted by seafood connoisseurs, Chilean Sea Bass boasts a mild but rich, buttery flavor, firm but tender texture, and large flakes. Ours comes from an MSC-certified sustainable fishery located in the deep, icy waters of the Antarctic's Ross Sea.
Wild Pacific King Salmon
Known also as Chinook, Pacific king salmon is the richest and most sought-after of the Pacific salmon family. Sustainably line-caught on small boats, our king salmon is iced immediately and flash-frozen within hours to preserve its fresh-caught quality. Wild king salmon tops all wild salmon species for fat and omega-3 content, and is also rich in vitamin D. Kosher (OU).
Wild Alaskan Halibut
Renowned as one of the world's premier white fish, Alaskan halibut's mild-but-rich flavor and firm texture make it a favorite of chefs and home cooks alike. We select the smallest fish of the catch, those weighing 20 pounds or less, to ensure optimal purity. Its firm, meaty texture and big snow-white flakes make our Alaskan halibut great for grilling, pan-searing, poaching, braising, or steaming in parchment. Popular in tacos, sushi, and ceviche.