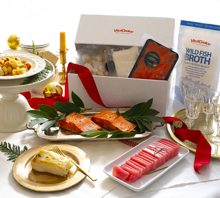 Vital Choice Holiday Box - Limited Edition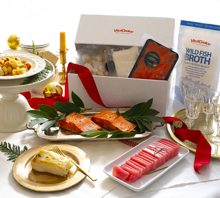 Vital Choice Holiday Box - Limited Edition
Curated from our staff favorites with the Holiday Season in mind, our Limited Edition Holiday box is the ultimate gift for any seafood lover offering a unique combination of Vital Choice's well known high quality, sustainably sourced seafood.
Sampler includes:
Wild Chilean Sea Bass– two 6 oz portions, skinless, boneless
Wild Alaskan Sockeye Salmon – two 6 oz portions, skin-on, boneless
Wild Patagonian Scallops – 1 lb bag, individually quick-frozen
Wild Sockeye Salmon Nova Lox – 4 oz package, sliced
Wild Fish Broth – 24 oz pouch
Wild Ahi Tuna Saku – 8 oz block, sashimi grade, center-cut tuna loin
Island Style Seafood Rub – 2.5 oz package, gluten-free*
* please note: due to inventory constraints, some orders might ship with Lemon Pepper Seasoning instead.
Individual Product Details
For full details, including ingredients and nutritional information, click on the individual product below:
Wild Chilean Sea Bass
Coveted by seafood connoisseurs, Chilean Sea Bass boasts a mild but rich, buttery flavor, firm but tender texture, and large flakes. Ours comes from an MSC-certified sustainable fishery located in the deep, icy waters of the Antarctic's Ross Sea.
Wild Alaskan Sockeye Salmon
Unlike most Alaskan sockeye, ours comes from fisheries in regions known to produce the world's finest wild salmon. This fish typically commands the highest prices on world markets due to its unrivaled quality, flavor, and oil content. In addition to ample protein, sockeye offers abundant omega-3s and vitamin D. Known also as "red" salmon, sockeye is the richest of all wild salmon in the powerful antioxidant, astaxanthin.
Wild Patagonian Scallops
Sustainably sourced from the Argentine Continental Shelf, our sweet, petite Patagonian scallops are perfect for soups, stews, salads, and ceviche. Within one hour of harvest, they are shucked and individually quick-frozen with nothing added.
Wild Sockeye Salmon Nova Lox
Customers praise the vibrant flavor and silky texture of our premium sockeye Nova lox. Sustainably caught sockeye is lightly brined and gently cold-smoked over alder hardwood; then it's thinly sliced, vacuum packed, and immediately flash frozen. One package thaws quickly and serves two generously.
Wild Fish Broth
Our collagen-rich fish broth is locally crafted from the heads, spines, and fins of cod, salmon, and halibut caught in cold, clear Pacific Northwest waters. For extra flavor and nutrition, our broth features certified-organic vegetables, herbs, and spices with a splash of white wine, and comes to you frozen in a convenient, resealable pouch.
Wild Ahi Tuna Saku
Considered the filet mignon of tuna, our premium ahi saku is a uniformly precision-cut portion of center-cut tuna loin, perfect for making sushi, sashimi, and tataki. Individually line-caught by small-scale fisheries in Indonesia, this Sustainably caught tuna meets rigorous standards of resource management, human rights and working conditions.
Island Style Seafood Rub*
Made in small batches using the finest certified-organic ingredients and Hawaiian sea salt, our Organic Seafood Rub combines complementary flavors from diverse regional cuisines. No wheat, soy, dairy, MSG, gluten, or preservatives. Product of USA.
* please note: due to inventory constraints, some orders might ship with Lemon Pepper Seasoning instead.