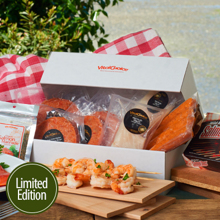 Vital Choice Grilling Vital Box Limited Edition - Grilling Essentials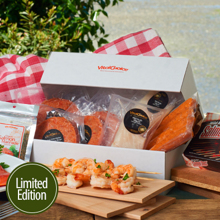 Vital Choice Grilling Vital Box Limited Edition - Grilling Essentials
Curated to please every palate on the patio, this limited-edition Vital Box contains our sustainably-caught wild salmon, lingcod, and shrimp, along with our wildly popular sockeye burgers and signature salmon dogs.
We've also included some alder grilling planks, which are perfect for the confident Grillmaster, while totally approachable for the budding backyard chef. Fire up the grill!
What's in the box?
Whole Alaskan Sockeye Fillet — 24 oz avg., boneless, skin-on
Wild Artisan Blue Shrimp — 12 oz pkg., raw, deveined, 12–15 ct
Wild Alaskan Lingcod — two 6 oz portions, boneless, skinless
Wild Sockeye Salmon Burgers — four 5 oz patties
Wild Salmon Dogs — 9.6 oz box of four dogs, original
Organic Salmon Marinade — 2 oz resealable pouch
Alder Grilling Planks — pack of 3, 12" x 5.5"
Recipe Card + Exclusive Coupon
Wild Alaskan Sockeye Salmon Fillet - 24 oz avg, boneless, skin-on
Unlike most Alaskan sockeye, ours comes from fisheries in harvest regions knownto produce the world's finest wild salmon. This fish typically commands the highest prices on world markets due to its unrivaled quality, flavor, and oil content. In addition to ample protein, sockeye offers abundant omega-3s and vitamin D. Known also as "red" salmon, sockeye is the richest of all wild salmon in the powerful antioxidant, astaxanthin. Sustainably caught and kosher. Product of USA
Wild Artisan Blue Shrimp - 12 oz, peeled, deveined, 12–15 ct
Ready for your favorite recipe, our Fair Trade Certified blue shrimp comes to you raw, peeled, deveined, and without tails. Sustainably-caught in the Gulf of California by a cooperative that uses small one-person pangas, this shrimp represents worker empowerment, local economic development, social responsibility, and environmental stewardship. Product of Mexico.
Wild Pacific Lingcod - two 6-oz portions, skinless, boneless
Lingcod is a versatile, mild-flavored, flaky white fish of medium-firm texture that'sdeliciouswhen baked, broiled, grilled, or sautéed. Ours is sustainably caught by hook and line off the coast of British Columbia. Not actually related to either ling or cod, lingcod (Ophiodon elongatus) is native to the North American west coast from the Gulf of Alaska to Baja California. Product of Canada.
Deluxe Sockeye Salmon Burgers - four 5-oz patties, gluten free
Naturally rich in omega-3s and vitamin D, our wildly popular burgers are made with wild Alaskan sockeye salmon and organic seasonings. Each patty comes individually vacuum-sealed and cooks from frozen in less than 10 minutes. Keep them on hand for quick, super-healthful meals on the grill or in the skillet. No artificial additives, preservatives, MSG,soy, corn, wheat, eggs, dairy, or sugar. Sustainably caught, gluten-free, and kosher.Product of Canada.
Wild Alaskan Salmon "Dogs" - 9-oz box of four
Created in response to customer demand, our wild Alaskan salmon "dogs" are a deliciouslyhealthy alternative to traditional mystery-meat hotdogs. Uncooked and ready for the grill orskillet, our dogs cook from frozen in just eight minutes. And they're made with a uniqueseaweed-based casing, to satisfy diets that exclude meats but include seafood. Made fromsustainably-caught Alaskan salmon. No gluten, nitrates, nitrites, or MSG. Product of USA.
Organic Salmon Marinade - 2-oz package
Custom blended in small batches with the finest certified-organic ingredients, oursignaturemarinade mix is the perfect complement to our wild salmon, seafood, poultry, or meat,and makes a delicious seasoning for salad dressing. No MSG, additives, or gluten. Kosher.Product of USA.
Alder Grilling Planks - package of 3
Indigenous peoples of the Pacific Northwest coast pioneered the art of roasting fish andgame on wood planks, a technique that preserves moisture and imparts deliciouslysubtle wood notes to grilled food. Our planks are made from natural, untreated wood. Seepackage for instructions. Product of USA.