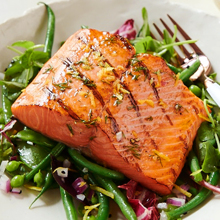 Vital Choice Fraser River Sockeye Salmon Skin-On/Boneless Portions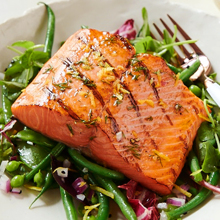 Vital Choice Fraser River Sockeye Salmon Skin-On/Boneless Portions
Features
Boneless, skin-on portions
Individually vacuum-packed
MSC Certified Sustainable fishery
Certified Kosher (Earth-K)
Product of Canada
The length of a salmon's birth river directly governs the amount of fat the salmon must accumulate before beginning its journey upstream to spawn and die.
Longer rivers mean more fat, and more fat means more flavor — plus more omega-3 fatty acids.
What makes Fraser River sockeye special?
From its source on the British Columbia-Alberta border, the Fraser River flows 854 miles — three times longer than Alaska's Copper River, another birthplace to extra-rich salmon.
The Fraser's tributaries and headwater lakes are the spawning grounds of several species of salmon, and this river ranks as the biggest source of salmon borne in British Columbia.
Fraser sockeye spend their first two years in the river, then swim out to sea where they mature over another two years, getting steadily bigger and fattier.
Once fully matured, they return to the Fraser and swim upstream to their original birth waters, where they spawn and die, allowing the cycle to begin again.