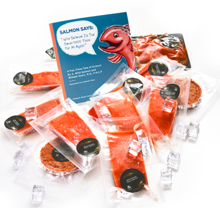 Vital Choice Dr. Sears Vital Choice Salman Box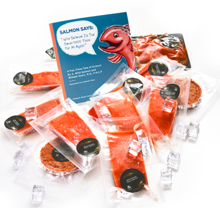 Vital Choice Dr. Sears Vital Choice Salman Box
Sampler Includes
Wild Alaskan Sockeye Salmon — four 4-oz portions, skinless, boneless
Wild Alaskan Silver Salmon — four 6-oz portions, skin-on, boneless
Deluxe Wild Salmon Burger — four 5-oz patties
Wild Sockeye Salmon Nova Lox — two 4-oz packages, sliced
Salmon Says by William Sears M.D. — softbound, 24 pages
About the Book
Dr. Sears has been advising busy parents on how to raise healthier families for more than 50 years, and in this book, he emphasizes his favorite food for young and old alike: wild salmon! Playfully illustrated and written for both adults and kids, "Salmon Says" is a "fun, finny tale of science" and available exclusively to Vital Choice customers who purchase this custom-curated box. Please note this limited-release book is condensed from the full-length edition here.
Salmon Says: Wild Salmon is the Smartest Food for All Ages!
By A. Wild Salmon and William Sears, M.D., F.R.C.P.
Illustrations by Deborah Maze
© 2021 Vital Choice Wild Seafood & Organics
About William Sears, M.D.
One of the most trusted names in family healthcare and the author of more than 40 best-selling books, Dr. Sears has become "America's Pediatrician" through his practical, science-made-simple approach. A Harvard-trained physician and father of eight children, Dr. Sears serves as a health consultant for magazines, TV, radio and other media, and his AskDrSears.com website is one of the most popular health and parenting sites. He has appeared on over 100 television programs, including 20/20, Good Morning America, Oprah, Today, The View, and Dr. Phil.
Individual Product Details
All products in this box are sustainably caught and certified kosher. For full details, including ingredients and nutritional information, click on the individual product below:
Wild Alaskan Sockeye Salmon
Unlike most Alaskan sockeye, ours comes from fisheries in regions known to produce the world's finest wild salmon. This fish typically commands the highest prices on world markets due to its unrivaled quality, flavor, and oil content. In addition to ample protein, sockeye offers abundant omega-3s and vitamin D. Known also as "red" salmon, sockeye is the richest of all wild salmon in the powerful antioxidant, astaxanthin. Sustainably caught and certified kosher (EarthK).
Wild Alaskan Silver Salmon
Known also as coho, wild Alaskan silver salmon is delightfully moist and delicate despite having less fat than wild sockeye or king salmon. Compared with sockeye or king, its delicate flavor and texture finds favor with many salmon connoisseurs. Line-caught and frozen at sea, our silver salmon offers fabulous, fresh-caught flavor. And our skin-on portions are great for grilling. Sustainably caught and certified kosher (EarthK).
Deluxe Wild Salmon Burger
Naturally rich in omega-3s and vitamin D, our wildly popular burgers are made with wild Alaskan sockeye salmon and organic seasonings. Each patty comes individually vacuum-sealed and cooks from frozen in less than 10 minutes. Keep them on hand for quick, super-healthful meals on the grill or in the skillet. No artificial additives, preservatives, MSG, soy, corn, wheat, eggs, dairy, or sugar. Sustainably caught, gluten-free, and certified kosher (OU).
Wild Sockeye Salmon Nova Lox
Customers praise the vibrant flavor and silky texture of our premium sockeye nova lox. Sustainably caught sockeye is lightly brined and gently cold-smoked over alder hardwood; then it's thinly sliced, vacuum packed, and immediately flash frozen. One package thaws quickly and serves two generously. No gluten, additives, preservatives, or MSG. Sustainably caught and certified kosher (OU).