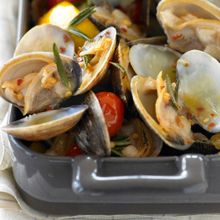 Vital Choice Clams - Manila (Frozen)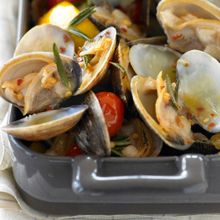 Vital Choice Clams - Manila (Frozen)
NOTE: The 1 lb and 3 lb options must be shipped with another frozen item to ensure delivered quality.
About 20-25 clams per pound
Rich in omega-3s and micronutrients
Partially-cooked for easy extraction
Seawater-purged to flush out sand and grit
Rated Best Choice Monterey Bay Aquarium for sustainability
Product of USA (Washington State)
Feauring a tender texture and sweet, fresh flavor, our colorful Manila clams come partially cooked and clean of grit.
They're great served on their own, or part of a favorite pasta dish or cioppino.
As their name implies, "Manila" clams originated in the western Pacific, but ours are cultivated sustainably in the waters of Puget Sound, Washington.
The harvest-area waters are constantly monitored for purity, and no harvest occurs without prior approval from State of Washington health authorities.
Safe and easy to enjoy
By law, each batch is tested and certified by the State of Washington as safe to eat raw, before the clams are harvested.
Our clams can be thawed and consumed as is, or cooked further from frozen (no thawing required), as you prefer.
After being cleaned and vacuum-packed, our clams undergo immersion in hot water (175°F) for 13 minutes — a process that partially cooks the clams and makes it very easy to pull the meat from the shell.
Note: The "nectar" in the bags is the result of the cooking process and natural juices from the clams.
Many ways to savor our sweet Manila clams
Steaming with water is a common way to enjoy our premium quality Manila clams.
You can also steam them in wine, beer, cider, sake or vermouth — or add a bit of any flavorful liquid to the steaming water.
Try adding complementary seasonings to your chosen steaming liquid, such as herbs, onions, leeks, shallots, garlic, lemongrass, chilies, ginger, or tomatoes.
You can also roast, sauté, bake, or stir-fry our connoisseur-quality clams, and enjoy them in sauces, soups, stews, and chowders.
Many regional recipes feature clams — Italian linguine and clam sauce, Portuguese cataplana stew, San Francisco cioppino, lndian curry, Korean hot pot, Peruvian ceviche, and Cajun gumbo or jambalaya.
Learn this food's omega 3/6 balance, and why it matters.