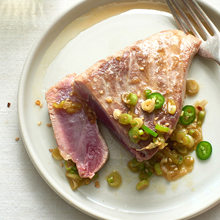 Vital Choice Ahi Tuna Steaks - Boneless Yellowfin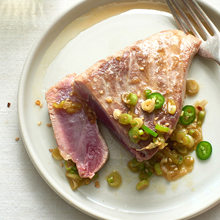 Vital Choice Ahi Tuna Steaks - Boneless Yellowfin
Features
Wild caught
Sushi/sashimi-grade
Line-caught by hand
Boneless 5-oz. steaks
Individually vacuum-packed
Rated "Green / Best Choice" by MBA's Seafood Watch
Product of Indonesia
Tuna lovers prize yellowfin for its wonderful flavor and firm texture, and our sustainably harvested yellowfin is of the very highest quality.
The fish are line-caught by hand, cut into 5 oz. steaks, vacuum-packed, and flash-frozen to preserve the tuna's fresh-caught quality.
We obtain our yellowfin from the artisanal Indonesian fishery in the Western Central Pacific Ocean, which enjoys a Green/Best-Choice ranking from the Monterey Bay Aquarium Seafood Watch program.
Serving yellowfin tuna
Cook yellowfin tuna as you would any firm fish: pan-fry/sauté, stir-fry, grill, broil, or roast.
You can also thaw and serve our yellowfin tuna as sashimi or sushi; the freezing process renders it perfectly safe to serve raw.
You'll find storage and thawing instructions under our Serving/Care tab, and suggested recipes under our Recipes tab. (Recipes for albacore tuna will work very well with yellowfin tuna.)
About yellowfin tuna
The delicious flesh of these torpedo-shaped, highly migratory fish is highly prized for sashimi and sushi

They're striking in appearance, with dark, metallic-blue backs, yellow sides, very long fins, silver bellies, and bright yellow "finlets".
Found throughout the Pacific, Atlantic, and Indian Oceans, yellowfin tuna form schools with other tuna species, like skipjack and bigeye.
A dolphin-safe fishery
Our yellowfin tuna comes from a sustainable Indonesian hand-line fishery that protects dolphins as it delivers top-quality tuna.
Unlike their Indonesia-area counterparts, yellowfin tuna (Thunnus albacares) in the eastern tropical Pacific often mingle with dolphins.
In the past, many dolphins drowned in tuna nets off Mexico and southern California. Thanks to stricter U.S. regulations, many fewer dolphins (about 1,000 annually) now die in that region.
Why is our yellowfin tuna red rather than brown?
Yellowfin sold in the U.S. is often exposed to synthetic carbon monoxide (CO) gas.
Exposure to CO gas preserves tuna's natural reddish-pink color, but will also make old fish appear fresher than it is, because tuna treated with CO stays red even after it spoils.
Instead of synthetic CO gas, our tuna is exposed to filtered, flavorless, CO-containing smoke from certified-pure hardwoods. This preserves the tuna's natural reddish-pink color, but it cannot mask old fish, because smoke-treated tuna will turn brown long before it begins to spoil.
Sources
Marrone R, Mascolo C, Palma G, Smaldone G, Girasole M, Anastasio A. Carbon Monoxide Residues in Vacuum-Packed Yellowfin Tuna Loins (Thunnus Albacares). Ital J Food Saf. 2015 Sep 8;4(3):4528. eCollection 2015 Jun 30.
Monterey Bay Aquarium Seafood Watch. Yellowfin Tuna.
National Oceanographic and Atmospheric Administration (NOAA). The Tuna-Dolphin Issue. 9/2/2016.
Washington Post. What Color Is Your Tuna? October 27, 2004; Page F01. Accessed at http://www.washingtonpost.com/wp-dyn/articles/A64326-2004Oct26.html