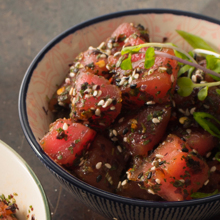 Vital Choice Ahi Tuna Poke Kit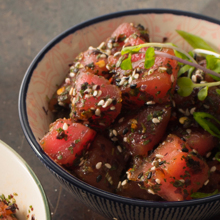 Vital Choice Ahi Tuna Poke Kit
Features
Gluten-free
Sushi-grade fish
Cubed ahi (yellowfin) tuna – 1 lb.
Organic Hawaiian seasoning blend
Recipe card with prep/serving tips
No artificial preservatives or additives
Tuna rated Green by MBA's Seafood Watch
Poke (poh-keh) is a seriously tasty dish that's easy, healthy, and quintessentially Hawaiian.
You can serve our Tuna Poke either as an appetizer, or as a main dish with rice or noodles and your choice of toppings.
Our Poke Kits feature sparkling pure wild ahi (yellowfin) tuna from Indonesian fishing villages, plus organic seasonings for fabulous, authentically Hawaiian flavor.
Just dress* the chopped tuna with our Hawaiian seasoning, add soy sauce, sesame oil, and any raw veggies you wish, then serve over rice, noodles, or greens.
As people say in the Islands before sharing some fresh poke, "e 'ai kākou", or "let's eat"!
*Our Kit provides a very generous amount of Hawaiian seasoning, which contains salt. We suggest you add half the seasoning packet and 1/2 tablespoon of soy sauce (the recipe card calls for 1 tablespoon) and then taste-test the result before adding more of either.
Sushi-safe tuna
Our ocean-fresh tuna is flash frozen at or below -4°F (-20°C), which ensures that it's perfectly safe to serve raw as poke, sushi, or ceviche.
About our yellowfin tuna
Our sustainably harvested yellowfin comes from small-scale, artisanal Indonesian fisheries.
We partnered with a local supplier that delivers consistently top-quality tuna, pays fair-trade prices to fishermen, and helps them remove barriers to success.
These small-scale fisheries are vital to remote rural communities, providing critical, nutritionally rich food source and employment.
Why is our yellowfin tuna red rather than brown?
Yellowfin sold in the U.S. is often exposed to synthetic carbon monoxide (CO) gas.
Exposure to CO gas preserves tuna's natural reddish-pink color, but will also make old fish appear fresher than it is, because tuna treated with CO stays red even after it spoils.
Instead of synthetic CO gas, our tuna is exposed to filtered, flavorless smoke from certified-pure hardwoods. This preserves the tuna's natural reddish-pink color, but it cannot mask old fish, because smoke-treated tuna will turn brown long before it begins to spoil.
Sources
Moskin J. Tuna's Red Glare? It Could Be Carbon Monoxide. The New York Times. October 6, 2004.
Modified Atmospheric Processing and Packaging of Fish. Otwell WS et al. editors. University of Florida, Food Science and Human Nutrition Department. Blackwell Publishing, 2006.
Marrone R et al. Carbon Monoxide Residues in Vacuum-Packed Yellowfin Tuna Loins (Thunnus Albacares). Ital J Food Saf. 2015 Sep 8;4(3):4528. eCollection 2015 Jun 30.
Neethling NE et al. Influence of carbon monoxide on the colour stability of defrosted yellowfin tuna (Thunnus albacares) muscle stored under aerobic and anaerobic conditions. J Sci Food Agric. 2015 Jun;95(8):1605-12. doi: 10.1002/jsfa.6991. Epub 2014 Dec 1.
Silbande A et al. Quality assessment of ice-stored tropical yellowfin tuna (Thunnus albacares) and influence of vacuum and modified atmosphere packaging. Food Microbiol. 2016 Dec;60:62-72. doi: 10.1016/j.fm.2016.06.016. Epub 2016 Jun 27.