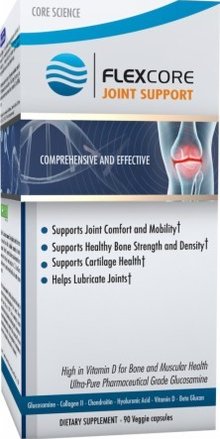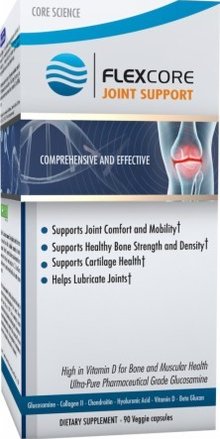 FlexCore Joint Support
Only Pharmaceutical Grade Glucosamine Available in America*
Supports Joint Comfort and Mobility*
Helps Rebuild Cartilage and Lubricate Joints*
Supports Bone Strength and Density*
Contains Vitamin D for Bone and Muscular Health*
FlexCore Joint Support is a revolutionary joint health supplement which has been scientifically formulated by a group of leading scientists to help target joint comfort and mobility, cartilage rebuilding and lubrication, and bone strength and density. FlexCore is the first joint support product in America to use ultra pure pharmaceutical grade glucosamine that holds a drug master file in over 25 countries around the world. FlexCore also contains a proprietary blend of chondroitin, hyaluronic acid, and Biocell collagen type 2 for fully complete joint support. FlexCore contains Vitamin D for bone and muscular health. In addition FlexCore features clinically researched Polycan 1,2/1,6 Beta Glucan for bone health. Every single active ingredient in FlexCore is based on core science and designed to deliver results like no other joint health product available today. FlexCore's proprietary formulation utilizes ingredients at the forefront of their respective health goals in terms of quality standards, scientific research, and purity.*
FlexCore Joint Support Ingredient Breakdown
Flex Core Joint Support is the only product in the world to offer a unique proprietary blend of Pharmacetuical Grade Glucosamine with other key ingredients such as Biocell Collagen II, Hyaluronic Acid, and Vitamin D for Bone Strength. This proprietary compound works together to comfort your joints, improve mobility, and support healthy joints.*
Osamine
Glucosamine is the most clinically researched health ingredient in the marketplace for application in joint health and support. Pharmaceutical grade Osamine glucosamine is the most rigorously regulated glucosamine in the world. No other glucosamine source comes close to meeting the quality and efficacy of this premium health ingredient.*
It's true that all glucosamine sold must meet minimum quality standards before it can reach the consumer. Unfortunately, not all glucosamine is manufactured with the same level of care. Osamine originates exclusively from wild shrimp and is manufactured in a state-of- the-art pharmaceutical facility featuring unequivocal manufacturing processes performed by expert personnel. Osamine features full lot traceability and zero discharge (eco-friendly) manufacturing. Subsequently, Osamine is subjected to extensive quality tests in an ultramodern laboratory before eventually being released into the supply chain, fully supported by a Drug Master File recognized in over 25 countries. Osamine exceeds quality standards to deliver a product with unrivaled purity.
In a recent double-blind clinical study reported in the June 2004 issue of Clinical Drug Investigations, researchers concluded that glucosamine, MSM and their combination produced an analgesic and anti-inflammatory effect in osteoarthritis. Combination Therapy showed better efficacy in reducing pain and swelling and in improving the functional ability of joints then the individual agents. All the treatments were well tolerated. The onset of analgesic and anti-inflammatory activity was found to be more rapid with the combination than with glucosamine.1
BioCell Collagen II
BioCell Collagen II is a novel dietary ingredient that promotes healthy joints. It is unique in that it is a naturally-occurring matrix whose three major constituents, collagen type II, chondroitin sulfate, and hyaluronic acid are reduced to highly-bioavailable, very low molecular weight forms due to its patented hydrolysis process.*
The latest human clinical trial in subjects suffering from joint conditions completed in 2010 demonstrated the safety and efficacy of BioCell Collagen II in promoting joint health and in improving various physical activities, as measured by VAS and WOMAC scores.
A novel dietary supplement derived from sternum collagen improves the pain, stiffness, and quality of life in persons with osteoarthritis (OA), researchers announced in April 2003. The findings of Dr. Eric Sheldon, a clinical research investigator at Miami Research Associates, are derived from a placebo-controlled pilot study in sixteen men and women with OA who received the supplement for an eight-week period. The supplement tested is a unique, patented extract of naturally occurring type II Collagen, Chondroitin Sulfate, and Hyaluronic Acid named BioCell Collagen II.*
BioCell Collagen II is a registered trademark of BioCell Technology LLC, Newport Beach, California USA (US Patents 6,025,327; 6,323,319; 6,780,841; 7,091,180; other US and foreign patents pending.)
Polycan
Polycan is an advanced compound offering significant benefits in the areas of bone health and mobility. Formulated and heavily researched in Korea, Polycan is a patented soluble compound fermented from a novel strain of black yeast and standardized to 1,3/1,6 Beta Glucan, clinically proven to support bone health, mobility and a healthy immune system. Polycan's unique compositions of multiple polysaccharides have been the feature of seven impressive clinical studies with others in process. The most widely known study was a 2009 12-week, randomized, 60-person double-blind clinical study that indicated significant gains in the activation of key bone formation biomarker osteoblast and the suppression of key bone resorption biomarker osteoclast. No other ingredient in the marketplace has been shown to target both of these biomarkers simultaneously.*
A 2009 12-week, randomized, 60-person double-blind human clinical study indicated significant gains in the activation of key bone formation biomarker osteoblast and the suppression of key bone resorption biomarker osteoclast. Seven other previously published clinical studies show equally favorable results.*
FlexCore Endorsements
Dan Marino
NFL Hall of Famer
Dan Marino is best known as a Pro Football Hall of Fame, NFL quarterback. Over a span of 17 years, Marino made 17 NFL regular-season records with the Miami Dolphins. Marino led the Dolphins to the playoffs ten times during his career and was a catalyst in positioning the team as perennial championship contenders. In August 2005, Marino was inducted into the Pro Football Hall of Fame.
Marino has seen many specialists and been operated on some of the "world's most renowned doctors and orthopedic surgeons." His search for a solution that provides "soothing, quick and long-term relief" to his joints has made Marino a very strong advocate for overall joint health—especially as one ages. He found what he was looking for with FlexCore Joint Support's revolutionary joint health formula.
"Flexcore helps me maintain the health of my joints, so that I can keep up with my active lifestyle."
Bob Cicherillo
Bodybuilding and Super Heavyweight Overall Champion
"20 years of Pro Bodybuilding and this product really lives up to the hype! I am able to keep up the same level of intensity when I competed. I would recommend Flex Core to anyone involved with intense training, it's a MUST HAVE!"
References
Usha, P.R., & Naidau, M.U.R. (2004). Randomized, double-blind, parallel, placebo-controlled study of oral glucosamine, methylsulfonyl-methane and their combination in osteoarthritis. Clinical drug investigation, 24, 353-363