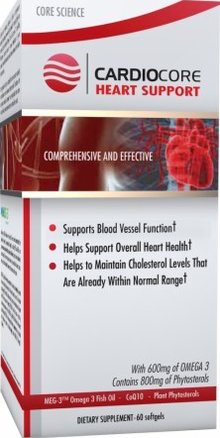 VitaCore Health CardioCore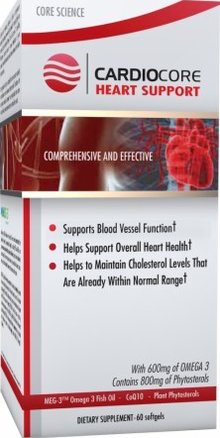 VitaCore Health CardioCore
Supports Blood Vessel Function*
Helps Support Overall Heart Health*
Helps to Maintain Cholesterol Levels that are Already Within Normal Range*
CardioCore Heart Health is a powerfully advanced cardiovascular heart health formula developed by a group of leading scientists with clinical research and core science at its foundation. CardioCore supplements in the ability to possibly reduce the risk of heart disease by lowering LDL (BAD) and total cholesterol. CardioCore has a proprietary formulation of an abundance of key nutrients like super purified omega 3's, Natural Coenzyme Q10 (CoQ10), and Phytosterols for overall heart and cholesterol health. CardioCore is the only cardiovascular heart health product available today that combines an abundance of these key ingredients in such high quality and pure form, offering a comprehensive heart health formulation that delivers results in supporting blood vessel function, support of overall heart health, and CardioCore may reduce the risk of cardiovascular disease.*
As part of a diet low in saturated fat and cholesterol, foods or dietary supplements that contain at least 400 mg of phytosterols, taken twice a day with meals for a daily intake of at least 800 mg, may reduce the risk of heart disease lowering bad cholesterol. A daily serving of CardioCore contains 800 mg of phytosterols.
CardioCore Heart Support was meticulously designed to deliver a comprehensive and effective approach to supporting your overall cardio health. Featuring highly pure sources of active ingredients Omega 3 Fish Oil, Conenzyme Q10, and Plant Phytosterols, CardoCore provides a unique combination of proven nutrients, formulated to maximize benefits when combine with a healthy diet and exercise*
Each ingredient in CardioCore is backed by extensive research supporting its contributions to overall heart and cholesterol health. CardioCore is the only product available to combine these key ingredients from superior sources, offering a comprehensive formulation that delivers results.*
CardioCore Heart Support Ingredient Breakdown
Phytosterols
A phytosterol, also known as a plant sterol, is a naturally occurring fat like substance found in the cell and membranes of plants. Phytosterols are almost identical to the chemical structure of Cholesterol; this similarity helps in lowering LDL and total Cholesterol by competing with Micelles (particles) to travel through the intestine with the Micelles. As a result, the total amount of Cholesterol being absorbed by the body is reduced. This helps lower LDL (bad) and total Cholesterol.*
Omega 3
More than 14,000 studies over the past 35 years have demonstrated the benefits of Omega 3 consumption. Omegas 3s, including EPA and DHA, are proven to help maintain health cholesterol and blood pressure levels. They have also been shown to be beneficial for heart, eye, brain, bone, joint, and skin health. There is no doubting the tremendous benefits Omega 3 provides.*
Vegapure
Vegapure comes from natural plant sterols. These beneficial substances are found in vegetables, nuts, fruits, and other healthy foods. These ingredients have a long history and are proven to lower cholesterol in a safe and natural way*. Increasing your daily consumption of plant sterols can help you actively manage your cholesterol and thus may help you to reduce the risk for heart disease. Nature's gifts, plant sterols, have been renowned for their cholesterol lowering power for over 50 years. These beneficial "fat-like" substances occur naturally in vegetables, fruits, nuts and grains. However, the amount of plant sterols found in vegetable and fruit is generally too low to produce a meaningful cholesterol reduction.*
By consuming foods or supplements containing Vegapure plant sterols as part of a heart-healthy lifestyle you can actively manage your cholesterol.*
MEG-3
MEG-3 is purified for safety, concentrated for potency and naturally sourced from clean, Omega-3 rich ocean fish - the best Omega-3 source. Fish contain both Omega-3 EPA and DHA, which are key factors in the maintenance of good health. MEG-3 offers the highest quality Omega-3 available. MEG-3 fish oils are better than flax. Not all Omega-3 are the same and flax contains only one type known as ALA. ALA must be converted by the body to Omega-3 EPA/DHA and the conversion rate can be as low as 1%. The best source for Omega-3 EPA/DHA is oily fish (such as anchovy, sardine and salmon) or fish oil. MEG-3 purified fish oils offer the purest quality Omega-3 EPA/DHA in the foods and dietary supplements you consume daily.*
CardioCore Endorsements
Dan Marino
NFL Hall of Famer
"I spent 17 years playing professional football and during that time I've learned the importance of taking care of my health…I have had some of the best doctors and surgeons in the world…And there's nothing more important than a healthy heart. Cardiovascular diseases alone are the number one cause of death in the world period…"
"I've made a conscious effort over the years to pay particular attention to my cholesterol and health. Hey I'm as active as I can be…I'm out there golfing, working out, running around with the kids….but exercise and diet alone just isn't enough sometimes."
CardioCore has been developed by a group of leading scientists and has a proprietary formulation of key nutrients like super purified omega 3s, CoQ10, and Phytosterols for overall heart and cholesterol health. No other product combines these key ingredients in such high quality and pure form. A lot of strong science and research went into developing CardioCore so it would support our cardiovascular health and I'm glad I take it."
"I take CardioCore for its quality, science, and because I plan on competing for the next 50 years."
Bob Cicherillo
Bodybuilding and Super Heavyweight Overall Champion
"With CardioCore, I no longer feel pain in my legs when I workout. I am able to go for long distances safely now. CardioCore is now a part of my daily supplement regimen."