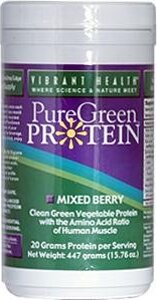 Vibrant Health PureGreen Protein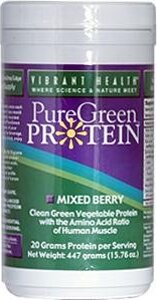 Vibrant Health PureGreen Protein
Pure Green Protein by Vibrant Health
Protein supplements come in many forms. Some are a better fit for us than others. Egg albumin and whey proteins have long been considered some of the best. The amino acid profiles of albumin and whey supply all the essential amino acids needed by human muscle, although not quite in the proper ratios to precisely match. They nevertheless are efficiently utilized by the human body to build muscle tissue and other structures.* What isn't needed for tissue building may be burned up for energy production. Indeed, a large percentage of dietary protein is commonly converted to energy. That is actually a good thing because conversion of protein to energy happens at a gradual pace, resulting in sustained and steady blood sugar levels.*
Plant proteins have historically been poorly suited for human use. Most lack one or more essential amino acids or contain so little of one or another of them that it is as if the amino acid were absent. Hemp protein is a classic example. Its amino acid profile is a miserable match for human muscle tissue.
Superb Bioavailability from vegetable sources*
Balanced Amino Acids to match Human Muscle
20 GRAMS Protein per Serving
Supports growth and tissue repair*
Gluten Free
Dairy Free
Egg free
Clean Green Vegetable Protein

Other plant proteins fare better under analysis. Pea protein ranks highly with an amino acid ratio suitably approximating human muscle. Spirulina protein and rice protein have value by containing good amounts of all essential amino acids, in fairly good balance.
By combining a variety of plant proteins in correct amount, and adding a few select free amino acids, it is possible to create a purely vegetable protein with an amino acid ratio similar to whey proteins, and in nearly equal to that of human muscle tissue. That is exactly what Vibrant Health has done in PureGreen Protein. Non-GMO protein from pea, rice, spirulina and alfalfa are joined with four select free amino acids to create our first ideally balanced, all-vegetable protein.*