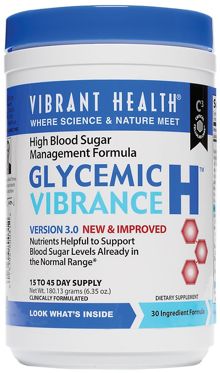 Vibrant Health Glycemic Vibrance H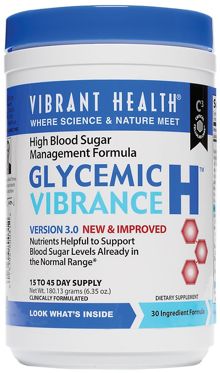 Vibrant Health Glycemic Vibrance H
Glycemic Vibrance H Description from VIBRANT HEALTH
Glycemic Vibrance H is a blend of concentrated naturals foods rich in trace nutrients. polyphenols, essential minerals, carnitine, plant extracts and antioxidants recognized to help in the maintenance of normal blood glucose levels.
Supplement Facts
Service Size:  grams
Servings Per Container:
Ingredient
Amount
% Daily Value**
56
7
Vitamin C (from ascorbyl palmitate)
40g
67
Vitamin D3
1000 IU
250
Iodine (from plants)
300mcg
200
Zinc
30mg
200
Copper
1mg
15
Manganese
9mg
450
Chromium
300mcg
250
Vanadium
20mg
Ayurvedic Components
Silbinol Pterocarpus marsupium extract
500mg
momordicin
300mg
-Bitter melon, Momordica charantia ext.
Tinofolin Tinospora cordifolia extract
300mg
Tulsi, Ocimum sanctum extract
200mg
Gymnema, Sylvestre extract
200mg
Botanical Components foenum graecum extract
2500mg
Amla fruit (embilica officinalis)
2000mg
Blueberry fruit extract
500mg
Rockweed, Ascophyllum foenum
250mg
Fenumannans Trigonella foenum graenum extract
250mg
Cinnomon bark powder
250mg
Milk thistle extract
200mg
Green Tea extract
60mg
Banaba Leaf extract
48mg
Alfalfa grass powder
10mg
Support Factors
Acetyl L Carnitine
250mg
L-Carnitine fumarate
250mg
Taurine
250mg
Arginine monohydrochloride
200mg
N-Acetyl-Cysteine
200mg
Alpha-Lipoic Acid
100mg
Ascorbyl Palmitate
100mg
Palatability Factors
Natural Orange-Mango Flavor
900mg
Fructo-oligosaccharides
789mg
Citric Acid
480mg
Stevia Leaf extract
300mg
Magnasweet licorice extract
120mg
** Percent Daily Value is based on a 2000 calorie diet. Your daily values may be higher or lower depending on your calorie needs.
† Daily Value not established.

Control of blood sugar is highly individualized. Effective dosage can vary among persons. This product may be used with or in place of Glycemic Vibrance H Capsules.
This product in not intended to diagnose, treat, cure or prevent any disease.

Manufacturer's Directions
One, two or three times each day, or as directed by a health professional, mix one level scoop (enclosed) of Glycemic Vibrance H into six (6) or more ounces of cool blueberry leaf tea, water, or diluted juice of your choice, and drink. This product can be taken at any time of day, either with or between meals. Keep out of reach of children. Store in a cool dry place.
Manufacturer's Disclaimer
Glycemic Vibrance H (GLH) may improve insulin efficiency. Diabetics on insulin should consult their doctor before taking GLH, and monitor blood glucose carefully when using GLH. You may need to adjust personal insulin dosages to compensate for improved utilization. DO NOT exceed three (3) scoops per day except on the advice of your health professional.
This product contains a chemical known to the State of California to cause birth defects or other reproductive harm.