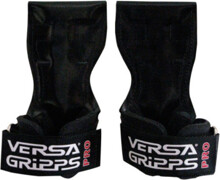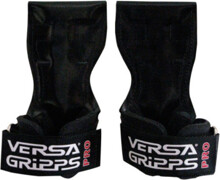 Versa Gripps - Pro Series
This versatile and easy-to-use lifting aid utilizes patented technology to assist you in overcoming your bodies wrist and hand limitations. They'll help you stay more focused on the major muscle group you're working, and spend less time worrying about if your grip can make it through another rep. This is a huge advantage, the mind/muscle connection effect that increased concentration allows you will provide benefits above and beyond simply those of being able to hold the weight longer.
The Versa Gripps line of products comes in three series; Fit, Classic, and Pro. The pro is the premium version of the product. It is meant for hardcore lifters that are moving serious weight. The wrist padding and gripping section are double reinforced to stand up to demanding weight loads. The gripping section is also longer to provide more surface area for you to grip with. These extras should help this be a very good value despite its higher price tag. It will last longer than the Classic series, and provide a bit more support for your lifts.
---
Our review is linked above, but you can also watch the video below - great stuff!
How to use
Versa Gripps are also incredibly easy to use and can for both pulling and pushing exercises. First of course you need to attach the product to your wrist using the comfortable wrist strap. Do NOT try to fasten the product tightly, a bit of looseness in the wrist is intentional to avoid restricting blood flow, movement, or damaging any nerves in the wrist.
Next, if you're completing a pulling exercise, position your hand so that the lifting bar is between your palm and the gripping portion. Now using your fingertips, fold the end of the product over the weightlifting bar and against your palm. Grab the bar as you would normally grab a weightlifting bar, and start lifting.
For pushing exercises, simply position the palm piece flat on your hand, with the weight atop it and grab as you normally would when performing pushing exercises.
Where to buy
On this page you'll find a comparison of the difference online stores that sell Versa Gripps. As with most other products you should definitely buy them alone as online stores can offer a far more competitive price than your neighborhood sporting goods store. This price comparison lets you get the best possible price on your order without having to find and compare them yourself.