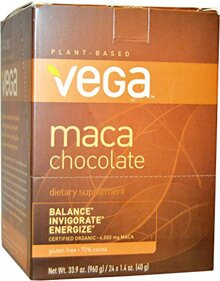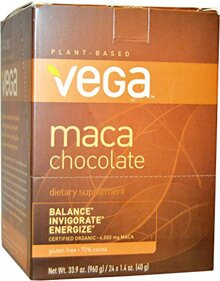 Vega Maca Chocolate Bar Description
Plant-Based
Balance
Invigorate
Energize
Certified Organic • 4,000 mg MACA
Gluten Free • 70% Cocoa
Kosher
Good for your body and the planet, Vega is the clean, plant-based choice to fuel your healthy, active lifestyle - without compromise.
This complementary blend of organic, 70% cocoa dark chocolate and Vega maca gives you permission to succumb to your chocolate craving, apology-free. Each deliciously decadent bar of Vega maca chocolate contains 4,000 mg of premium organic gelatinized maca, renowned for its ability to balance, invigorate and energize. Blending the benefits of maca with the power of rich organic chocolate is sure to arouse the desire of even the most healthy-conscious taste buds. Vega maca is organically grown in partnership with Peruvian farmers.
Directions
(Adults): take 1 bar per day, or as directed by a health care practitioner.
Free Of Gluten. Disclaimer These statements have not been evaluated by the FDA. These products are not intended to diagnose, treat, cure, or prevent any disease.