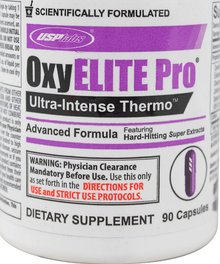 USP Labs OxyELITE Pro Advanced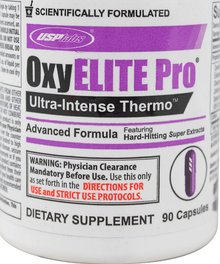 USP Labs OxyELITE Pro Advanced
We're sorry to say that all of our stores are completely out of stock of OxyELITE Pro Advanced.
The good news is that there is a new advanced formula fat burner from PES, a company that works closely with USPLabs, named Alphamine. This is the best replacement, and it comes in a delicious powder mix for an enjoyable fat burning drink!
USPLabs has been secretly developing yet another breakthrough fat burner.
We're not sure where or when, but at some point.... OxyELITE Pro Advanced is coming!
Update, August 12, 2013: The new advanced formula has been released! We have some research to do, but it is now listed below.
---
The Advanced Ingredient Profile
We're happy to note that there is a brand new ingredient that we will have to research for you. Knowing USPLabs, it'll likely be a quite potent thermogenic fat burner, but we're not sure yet.
100mg of caffeine in each capsule / serving

A 225mg complex that has:


Cynanchum auriculatum (root) extract
Olea europaea (leaf) extract (standardized for oleuropein) (olive leaf extract)
Aegeline
Yohimbe (Pausinystalia johimbe) (bark) extract (standardized for full spectrum alkaloids)
Coleus forskohlii (root) extract (95% forskolin)
It's this first ingredient that we have the most questions about, but according to preliminary research, it seems to work towards appetite suppression.[1]
Everything else is pretty well known to induce fat burning via various mechanisms. We'll update you when we've dug it all up.
Older write-up from earlier before we knew the ingredients:
---
What's Going On Here?
Our guess is that this is going to be an intense product that will aim to replace the DMAA stimulant that was in the original Oxy Elite formula.
As you may know by now, USPLabs is removing all DMAA from their products, including the original OxyELITE Pro fat burner, along with the original Jack3d pre workout supplement. This comes after a very long battle with the FDA.
USPLabs has confirmed that Jack3d Advanced is coming sometime around July. But on their website, they've also snuck up a few pages of an OxyELITE Pro Advanced formula as well!
Our assumptions?
We believe that USP will have some amazing new stimulant in Jack3d Advanced, which we assume will be more of an energy product.
It is then our guess that they will follow their earlier path in taking that novel stimulant from the advanced pre workout to the advanced fat burner. This is what happened when OEP was released after Jack3d original.
The Original Is Still Available!
Just so you know, the original OxyELITE with DMAA is still available in the US. It is not illegal, nor is it banned by the FDA. As of May 21, 2013, it's still in stock -- you can click the link above to compare prices, which we'll do our best to keep up to date.
---
The USPLabs Fat Burning "Franchise" and History of OxyELITE Pro
Let's talk about the different fat burning products from USPLabs, so you don't get confused:

It all started here, before USP Labs took off to become the supplement giants they are now. This is a very low stimulant product -- around 50mg caffeine, or a cup of tea's worth -- which has many natural pathways.

It works very well in fat burning stacks for those who are weening off caffeine or are unsure of high-stim products.


This is the one that absolutely leveled the market, and rightfully so - it's one of the best fat burners we've ever used (if not the best).

The problem is that it has the controversial DMAA ingredient (1,3 Dimethylamylamine HCl), which many absolutely love and USPLabs backs, but is now illegal in several countries, and "frowned upon" by the FDA in the US. Not illegal, though.

USP will be selling out of stock of this, and then it's gone forever.

This is the product that USP is likely to replace with the new Advanced Formulation of OxyELITE Pro that we're discussing here.




To replace the DMAA that was banned in other countries, OxyELITE Pro was reformulated with some additional ingredients such as higenamine and aegline.

To make up for the lost DMAA, 25mg extra caffeine was added to each capsule.

Many users love it, but it's just not the same without DMAA. Users seem to want that incredible stimulant effect, and the appetite suppression to go along with it.


Originally launched in Australia (a country whose customs laws make it difficult to import various capsule-based supplements), this was recently reformulated to the US as well.

It takes the new formula mentioned above, adds a couple ingredients, and puts it in a fine powder that can nearly be treated like a delicious early-morning fat burning energy drink.

And now, the Advanced Formula


...which we have no clue what will be in it.




This new "advanced leaning formula" protein is coming out tomorrow as I write this. It has an incredible mix of the new polydextrose fiber (which has health and taste benefits), and fat-burning oils such as CLA and MCT oil.

Depending on the price, we're going to be suggesting this one a lot.

Compound 20 - "Leaning and Hardening Agent"


It's worth mentioning C20 on this page, which is an incredibly underrated supplement.

This product works very well with carbs, and is an incredible body transformation tool that helps your body shuttle sugar and water into muscles instead of fat.

The problem is that it takes about 4-6 weeks to really kick in, so that means you need to buy two bottles - kind of expensive. It also makes you super thirsty, which is annoying... but worth it if you're really looking to change things up.
So that's the story behind USP's "fat burning franchise". We truly believe that these are some of the best products on the market, and that's why we talk about them so much.
USPLabs is a great company to work with, and an even greater company to buy from. We expect nothing less from this new weight loss pill formulation.
---