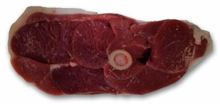 U.S. Wellness Meats Goat Steak (Leg)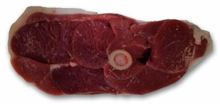 U.S. Wellness Meats Goat Steak (Leg)
Free range bone-in leg of goat steaks are the very lean sister mates to our favorite leg of lamb steaks that have proven very popular over time. Quick and easy to fix averaging 14 ounces each.
Supplies are limited; consequently, procrastination is not recommended.
Our goats are sustainably raised just like everything in our store.
No Hormones - No Antibiotics
Pasture raised with supplemental non-gmo grain
1 bone-in leg of goat steak per order averaging 14 ounces.