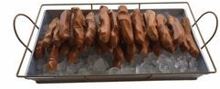 U.S. Wellness Meats Beef Franks (End Pieces)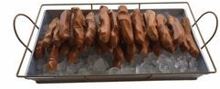 U.S. Wellness Meats Beef Franks (End Pieces)
BUY 100% GRASS-FED SUGAR-FREE BEEF FRANKS ENDS PIECES IN BULK!
This is a great way to save a bundle on a whole lot of premium quality, great tasting all beef franks!
We have available a limited quantity of BULK All Beef, Sugar-Free Franks Ends Pieces Bundles. You'll receive approximately 17 lbs per order. Make sure you have plenty of freezer space.
These bundles contain our 100% grass-fed beef sugar free franks in one big 17 lb bundle. These arrive in a large, bulk bundle that has been vaccuum sealed and flash frozen. They can be thawed, packaged in smaller portions and re-frozen.
Great bulk pricing and portion sizes for restaurants or buying with friends in food co-ops. Join in with your friends and family to purchase in bulk.
Fully cooked, sugar free, MSG free, nitrate free, nitrite free, and gluten free grass-fed Sugar Free Beef Franks have been perfected by US Wellness Meats.
US Wellness Meats has worked hard to maintain great flavor without added sugar for their valued customers.
Ingredients: beef, water, sea salt, spices (pepper, cardamom, mace, coriander, nutmeg, allspice), paprika, beet powder (non-GMO red beets), onion powder, garlic powder
All of US Wellness Meats' beef products are 100% grass-fed and grass-finished.
Each BULK All Beef Sugar-Free Franks & Ends bundle contains approximately 17 lbs of Franks in large vacuum bag.