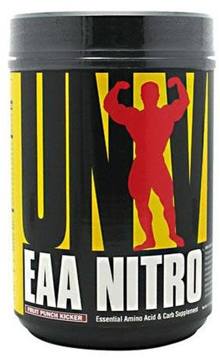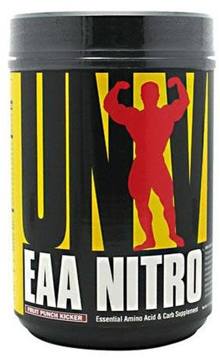 Essential amino acids (EAAs). You need them because your body can't make them on its own-you can only get them from diet and supplementation. You want them because you know how important EAAs are post-workout-only EAAs are needed to spark protein synthesis and achieve anabolic effects. Non-essential amino acids aren't needed; non-essential aminos can get wasted. Now what you want are the right forms of essential aminos in the right ratios and amounts. With EAA Nitro, you don't have to figure all this out. We did. With EAA Nitro, you get the same "uncoupled" essential amino acid profile as found in human muscle itself. You also get the addition of 35g of dextrose. And it all comes in a grape-flavored drink mix. Think of the added dextrose as a kind of supercharger. This important carb takes those key essential aminos your muscles need and ignites 'em. So the next time you reach for your favorite post-workout shake, take a serving of EAA Nitro instead. You'll get all the key aminos your body needs (and none you don't), plus just the right amount of carbs. Because with Universal, superior results are what we're delivering.

Supplement Facts:

Serving Size: 1 Scoop
Servings Per Container: 21

Amount Per Serving:
Calories 140
Total Carbohydrates 35g 12%
Sugars 35g
Vitamin B6 (Pyridoxine HCL) 250mcg 13%
Niacin (As Niacinamide) 5mg 25%

Human Muscle Protein Complex 2500mg
Leucine
Lysine
Arginine
Valine
Isoleucine
Histidine
Threonine
Methionine
Phenylalanine
Pro BCAA Complex
Leucine 1750mg
Isoleucine 845mg
Valine 908mg

Other Ingredients:
Dextrose, Natural Grape Flavor, Citric Acid, Sucralose, Red #40, Blue #1.

Directions: Take 1 heaping scoop within 30 minutes after resistant training. For even better results, you can take 2 total servings; the first immediately before lifting, and the second within 30 minutes after. If you use a post-workout shake, wait at least another 30-45 minutes after you've taken an EAA Nitro serving before taking that shake. Always take EAA Nitro on an empty stomach.

Note: Manufacturers continually change product specifications. While we try our best to keep product descriptions up to date, they do not necessarily reflect the latest information available from the manufacturer. We are not responsible for incorrect or outdated product descriptions and/or images.

These statements have not been evaluated by the Food and Drug Administration. This product is not intended to diagnose, treat, cure, or prevent any disease.